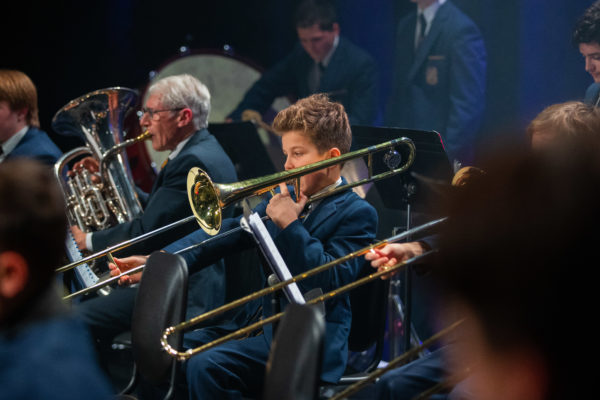 A most appreciative audience of parents and friends enjoyed an evening of wonderful music on 16 June at the 2022 Festival of Bands. The students were excited to be performing in a celebration of live music, highlighting our concert bands, brass ensembles, and jazz ensembles. Guy Hammerschmidt and Hugo Pizzol (Year 12), were featured as soloists.
This may have been the last opportunity for our Year 12 cohort to play in the College bands. The Music Department wishes them good luck in their upcoming examinations and expresses our thanks to Luke Stewart, Evan Hodges, our MCs on the night, Harrison Gippel, Solomon Tuqiri, Mack Trustrum, Hugo Pizzol and Guy Hammerschmidt. A welcoming speech was made by the College Captain, Daniel McSweeny, who incidentally, has been a member of the bands up until this year.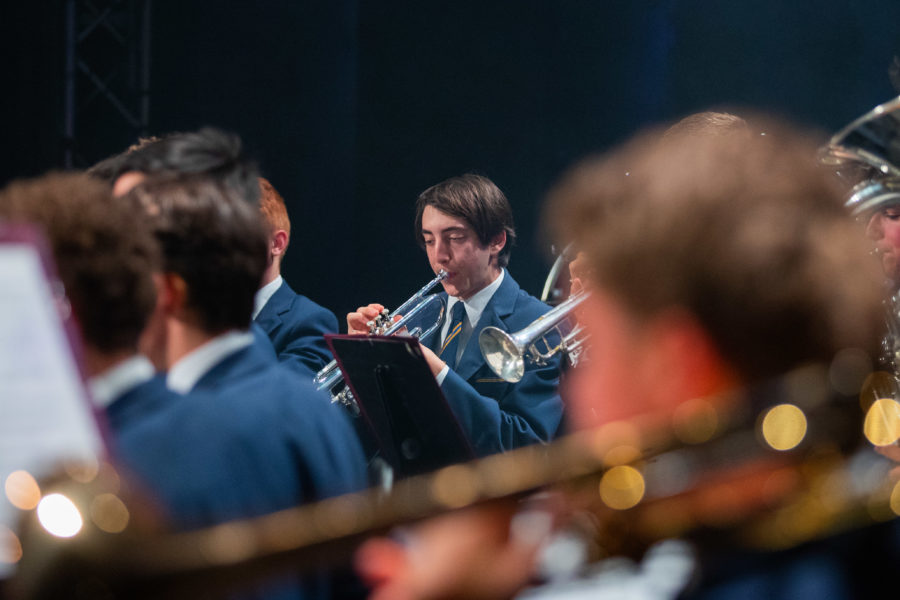 Our guest ensemble was Bondi Brass. Bondi Brass was founded by Cliff Goodchild and initially included students who played in his three school bands: namely, Waverley College, Marcellin College and Sydney Boys High. Cliff's son, Paul Goodchild, was an Old Boy of the College, and famed trumpeter, who sadly passed away in March, this year.
Repertoire performed by Bondi Brass included: Flourish by Ralph Vaughan Williams, Carnival of the Animals by Camille Saint-Saëns, Bugler's Holiday by Leroy Anderson and Waltzing Matilda arr Gordon Langford.
This event would not have been such a success, without the generous support and work from the following members of the Music Department:
Our conductors, Mr Daniel Williams and Mr Alexander Lee, our accompanist, Ms Josephine Allan, the music staff, Mr Chris Balkizas, Head of Music, Mr Chris Blenkinsopp, Ms Jaz Dolso, and Ms Keiran Kossenberg, PAC Administrator.
Other members of staff who assisted on the evening were Ms Catherine Sharp in printing the programs, Mr Angus McPherson and Mr Bishoy Wasef for their technical, lighting and photographic expertise, and our production crew, Simon Finnegan, Elliot Barton, Finley Stern, Liam Davis, and Jackson Thomas.
I would also like to acknowledge and thank all the parents who freely volunteered their time on the night, to assist in the serving of scrumptious food and beverages. I would especially like to thank the members of the Music Supporters' Club: Christina Leonard, Karen Birrell, Naomi and Greg Isaac, Sophie Smith and Joe Rede.
Mr Dan Williams
Head of Bands
E: dwilliams@waverley.nsw.edu.au
Mr Chris Balkizas
Head of Music
E: cbalkizas@waverley.nsw.edu.au