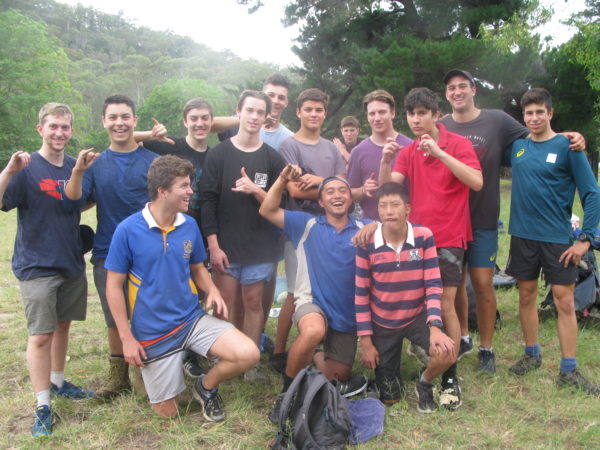 A MESSAGE FROM THE HEAD OF BRENNAN HOUSE, JAMES HORROCKS
Term Four has been a great way to finish of the year for the "Wolf Pack".  All members of the house have thrown themselves into every opportunity from academics, to sports, to the creative arts.
Year 12 – 2019:
As is the case each year, Term Four saw the handover of student leadership to the Class of 2019.  In the short time that they have taken on the role of student leaders, our new Year 12 cohort have already shown themselves to be proactive and positive role-models to the other year groups.  I would like to congratulate our new College Prefects on their appointments for 2019:
Will Davison – Academic
Darcy Mullins – Community
Tommy Tyson – Spirituality
Alex Kapos – Wellbeing
Josh Gleeson – College Vice-Captain
These young men have demonstrated excellent qualities of leadership and have transitioned into their new roles smoothly, displaying enthusiasm and maturity in their approach to their responsibilities.  I am looking forward to working with these gentlemen next year.  This year we had a large number of great candidates applying for these roles and I encourage any students who missed out to keep working hard and showing leadership in the lead up to mid year prefect positions next year.
Another part of the transition into Year 12 involved undertaking the Retreat program.  Brennan House departed visited Toukley for 2 nights and undertook a program of self-development and reflection.  It is a privilege to be a part of this, to see the mature way the students approached the program and the incredible personal and spiritual growth in all of the students in such a short period of time. The way in which each student engaged with the retreat was overwhelmingly positive.
Junior School:
After a fantastic fundraising effort from our Year 5 and 6 Brennan students last term for the Holdsworth Ball, the Junior School members of Brennan House were treated to a pizza lunch as a thank you for their generous donations.  Thank you for your enthusiasm and hard work in raising money for such an important event!
Year 7 Orientation Day:
Year 7 2019 Orientation Day was another major event of Term 4 this year.  The day was a great chance for our Junior School members to welcome those boys who will be joining us from other schools for Year 7 in 2019.  Over the duration of the day students were given an introduction to a wide range of aspects of life in the Senior School including Design and Technology, Social Justice, Sport and Swimming Trials.  It was fantastic to see all boys mixing well and enjoying themselves throughout the day, already creating good relationships for the commencement of 2019.  Credit also goes to our five House Prefects who were excellent throughout the day and provided a kind, welcoming and caring face for the future Year 7 students to look for and guide them in their transition.  Thank you also to all of the Junior School staff, who assisted on the day and helped make everything run so smoothly.  All feedback from the day was highly positive and I look forward to greeting this eager group of students again at the start of 2019.
Year 10 Camp and Reflection Days:
Year 10 students embarked on their outward bound Camp to Somerset in Week 7, an annual event that is always listed as a major highlight in the school life of many Waverley College students upon graduation.  This camp serves as a perfect opportunity for students to be placed in an environment that allows them to test themselves and develop important life skills such as perseverance and teamwork.  Reports from the camp stated that the Brennan camp group was one of the most enthusiastic and positive of all groups throughout the camp, with students and group leaders alike raving about their experiences.
Following their camp, Year 10 took part in two reflection days which saw them involved in a range of activities and seminars to get them thinking about the mark they want to leave on the world and who they want to be as they grow into young men.  They were lucky enough to hear from a number of inspirational speakers with backgrounds in spirituality, dealing with homelessness and Holocaust survivors who gave students with a lot to think about and reflect upon over their Christmas holidays.
Summer Sport:
Term Four also saw the beginning of the Summer Sport season.  Teams have already been training incredibly hard and it has been good to see many of them reaping the rewards of their hard work. Congratulations also to all students who have been rewarded with selection into 1sts squads and who have taken on very important captaincy and leadership roles within their respective teams.  The Summer Sport Captains from Brennan House include:
Will Davison – Vice Captain of Swimming
Michael Gatto – Captain of Judo
Kyle Goulding – 1st V Basketball Captain
Jesse Muscat – Captain of Lawn Bowls
The number of new faces taking on leadership roles each season is very encouraging.  I look forward to seeing the excellent results continue in Term 1 2019.
Also within the sporting field, two Brennan members have been making a huge impact on the world stage in their respective sports.  Will Cooley journeyed to Argentina to represent Australia as part of the Sailing team at the Youth Olympics.  Will has been an incredibly dedicated athlete in the lead up to this event, undertaking an intense training regime throughout the year.  As a house it was very exciting to follow his progress in Argentina and see all the hard work he has put in pay off, in what was a very hotly contested field of talented young sailors.  Will's efforts were also recognised this term by the Southern Courier, who awarded him "Junior Sports Star of the Year" for 2018, a great achievement.  Another dedicated young Brennan athlete who has experienced great success this year has been Mac Jenkins.  Mac was selected as captain in both the NSW and Australian Under 17's Cricket teams.  As part of this he also received an invitation to train with the Indian Men's Cricket Team when they arrived in Australia this term.  We will be keeping a close eye on the progress of both Will and Mac in the years to come!
Academic Award Winners:
The level of academic achievement this year has also been excellent.  What has been most encouraging has been witnessing boys work hard to improve on results of prior years and striving to reach their academic potential. The effort and focus that many students have put in to their studies has been excellent and has set a strong foundation for them all to develop upon in 2019 and beyond.  Special congratulations goes to Cass Martin-Newbold and Ryan Abbott who have received the Year 9 and Year 10 Awards respectively.  These Brennan students have exemplified what can be achieved with hard work, a desire to improve and an organised approach to their studies.  I look forward to celebrating even more academic successes in 2019.
Thank you:
As the year comes to a close it would be remiss of me not to thank the people who have worked so hard throughout the year to support every student within Brennan House.  We are very lucky to have such a dedicated and caring team of mentors who go above and beyond every day to make sure that the boys get as much as possible out of our Wellbeing Program.  The mentor team for this year has been:
Ms Stephens
Ms Ryan
Mr O'Donnell
Mr Chen
Mr Mosna
Mrs Porter
Ms Richards
Mr Bannerman
Ms Fahy
Mr Balkizas
Mr Gibbs
Ms Perry
Mr Pryor
They have all been exceptional in their care and guidance of their Wellbeing Groups and I look forward to working with them again in 2019.
Congratulations goes to Mrs Porter who has been appointed as Director of Curriculum, commencing in 2019.  Mrs Porter's experience, professionalism, dedication and knowledge will be even more of an asset to the college in her new role.
We are also sad at the news that Ms Perry will be leaving us at the end of the year.  She is moving to Cairns for a new adventure and we wish her all the best for what will be an exciting new experience.  Brennan House is very thankful for the amazing work she has done and care she has taken with the boys throughout her time at the college.
Christmas Wishes:
In the last two weeks of classes, students and mentors in each Wellbeing Group let their creativity shine by filming short Christmas messages for the rest of the house.  These messages were put together into a short video that was played in our final house assembly to wish everyone a Merry Christmas and a Happy New Year.  Hopefully this will be the start of a new Christmas tradition within the house.
The Christmas/New Year period is a great chance to spend time with friends and family that you may not always get to see during term time, travel, relax and come back restored and excited for the new academic year.  Make sure you take the chance to show your appreciation to your friends and family for the year gone and spread the spirit of the Christmas season.  Reflect on and be proud of what you have achieved over the last year, then take the time to look towards 2019 and plan how to make it your most successful one yet.
Finally, a challenge that I like to set for every member of Brennan House at the end of each year: "Do something good for someone else without being asked".  If you see a need in your community, family, friendship circle or any other area of your life, do your best to fill that need.  Christmas is the season of giving and the chance to spread some happiness and joy to those around you.
Merry Christmas to the entire Waverley College community.  I hope that each of you enjoy a holy Christmas with your family and a restorative New Year period.  I look forward to seeing you all in 2019 for another great year in Brennan House.