Thank you to all who attended the College's Cricket Presentation Evening. The night consisted of an arrangement of awards, farewells and thank you messages to those who have served our community over this past season. We were also lucky to have Sydney Thunder star, Jay Lenton, as our guest speaker, who shared many of his insights and experiences.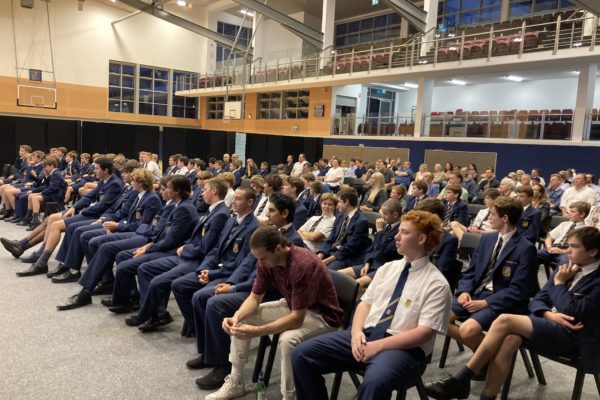 Congratulations
Firstly, congratulations to the following students who received the Coach's Award:
1st XI – Sachiel Bass

2nd XI – Liam Joll
Year 10A – Sam Rossen
Year 9A – Liam Walsh
Year 9B – Hamish Baldock
Year 8A – Alfred Robertson
Year 8B – Cavell Frampton
Year 7A – Max Jennings
Year 7B – Luke Duffy
Year 7C – Lexington Spies
Furthermore, a very special congratulations to Hunter Eldridge of the Year 10A, who received the Br Murphy Award for best overall cricketer, with 187 points. One of Hunter's most notable performances this season was his 51 against St Aloysius' College. 
Farewell to Year 12 Players
Also, thank you and farewell to the following Year 12 players: Maxim Brooks, William Dodd, Jack Rigg, Sachiel Bass, Liam Joll, Hugo Defina-Sperando, Patrick Abrahams, Edward Regan, Patrick Abrahams and Daniel McSweeny. 
Despite the setbacks of COVID-19 and the wet weather, their balance of competitiveness and their upbeat manner has constantly inspired many of the younger cricketers. They are young men who can be counted on. 
Season Wrap Up
Lastly, thank you to all involved this season. Especially to coaches and parents within the Supporters' Group. This year has consisted of many challenges, and at times disappointment, as we have had to again navigate COVID-19 and the heavy onslaught of rain. However, as games were cancelled and disruptions occurred, the spirit of the cricket community could not be faulted. 
I am looking forward to seeing you all again next season!
Mr Sean Picone
Convenor of Cricket
E: spicone@waverley.nsw.edu.au