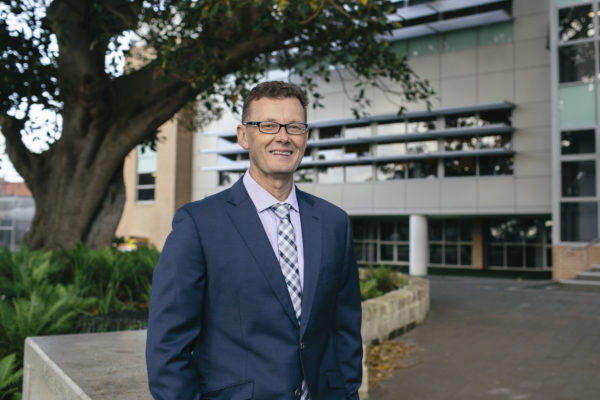 Refugee Week
Congratulations to all staff and students who have supported 'Refugee week' and helped us all gain a better understanding of what it would feel like to be displaced or persecuted. Thank you to Ms Sue Walsh, Mr Richard Bryant and Mr John McCoy who have led a number of activities this week along with our Heads of House.
World Environmental Day
Congratulations to Ms Pace and our Sustainability Group who conducted a rubbish audit to mark World Environmental Day last week. I look forward to hearing their suggestions on how we can all reduce our carbon footprint and impact on the environment. 
Westpac Scholars Trust – Oscar Osborne
Recently the trust announced its 2020 Westpac Future Leaders Scholars, recognising 15 ambitious young Australians who are investigating solutions to some of our most pressing global problems. Each recipient will receive up to $120,000, covering their postgraduate studies, a nine-month bespoke leadership development program and the opportunity to study abroad. Congratulations to Waverley College 2015 graduate Oscar Osborne who is currently at the UNSW Business School. Oscar's PhD project will focus on how innovation ecosystems emerge and the role they have in assisting the sustainable growth of developing economies around the world.
Year 12
I congratulate our Year 12s and their teachers who continue to attend the extra tutorials being held each Saturday. This commitment will give them the confidence to perform at their best come HSC trials and for the HSC itself. As we head toward the end of term, may I also remind Year 12 students that the upcoming break is not a holiday for them. It should be treated as a study break where they allocate six hours per day to revision and preparation for the upcoming examinations. Please ensure your son maintains good exercise, relaxation time, reduced screen time, good sleep patterns and a healthy diet during this time. Please do not allow your son to change his normal sleep patterns drastically and sleep in. A consistent approach to his day over the next few months is what is required. 
Mark Hughes Foundation
Please support the Mark Hughes Foundation with their aim to find a cure for Brain Cancer which kills more children and people under 40 than any other cancer. Year 7 student, Digger Calendar challenged all students on assembly this week to support this great cause and buy a 'Beanie for Brain Cancer'. All staff and students are encouraged to wear a beanie on the last day of Term 2 to show their support. Beanies can be purchased online or at IGA and Lowes stores.
Staff News
Last week we farewelled Ms Michaela Dee, English Teacher as she goes on parental leave. We wish her all the best on the birth of her second child.
We welcome Ms Angie Williams, who comes to us from the Supreme Court Library Queensland and has previously worked in local government libraries, museums and legal services. Ms Williams will be assisting students and staff in the Senior Library. 
Congratulations to Ms Elizabeth Watson who has been seconded to the position of Acting EREA Director of Learning for the remainder of 2020. Please click here for the official communication from EREA Executive Director, Wayne Tinsey regarding Ms Watson's secondment. We are grateful Ms Watson will be based at Waverley College, so we will still benefit from her experience and extensive knowledge. We wish her the very best with this opportunity. 
Congratulations to Ms Gabrielle Smith who has been appointed by EREA to the position of Acting Deputy Principal – Teaching & Learning for the remainder of the year. Ms Smith was recently awarded a National Excellence in School Leadership Scholarship and has been the Director of Junior School since 2018. Prior to that Ms Smith was Acting Head of Junior School – Loreto Kirribilli where she taught and worked for 12 years. Ms Smith holds a Master of Education and Bachelor of Education. Her previous roles have included Head of Curriculum, Religious Education Coordinator and Head of Junior School. Prior to Loreto Kirribilli, Ms Smith worked at St Scholastica's College Glebe and Stonar School, Bath, England. We wish her the very best in this role. The process to appoint the Acting Director of Junior School will commence shortly. 
CAS Co-Curricular Resumption
The CAS General Committee has recently met and agreed to the following in respect to the resumption of the co-curricular competition. 
CAS will observe the guidelines for training as set down by the Australian Institute of Sport, NSW Government and NSW Health advice

The aim is to have a five-week winter CAS season

For football codes (AFL, Football, Rugby) contact training can commence from July 1. We will hold holiday camps and programs to ensure students are adequately prepared for the commencement of the winter season. 

Winter sport competition will commence on Saturday 18

th

July for 1

st

and 2nd teams 

All other age groups will have internal trials on Saturday 18th July and commence competition on the 25 July

Open teams shall complete their final round on August 15 prior to the HSC trials. 

In Rugby, only 1

st

and 2

nd

teams will have contested scrums

Post-match functions will not be provided in this abbreviated season

Spectators at matches will conform to the regulations set down by NSW Health. At present, these regulations are gradually being eased.  CAS will monitor these regulations and ensure that we have communicated with schools in a timely way before the 18

th

July commencement 

In the event of a positive COVID-19 case disrupting a school's participation, the school will follow the advice of NSW Health in terms of requirements for close contacts and casual contacts. In terms of Open First teams where there are premiership points appointed, a game not able to be played will see a splitting of the points
End of Term
I thank all staff, students and parents for their hard work and support throughout what has been an eventful term. Our community has stood tall through some challenging times and performed admirably. Well done!