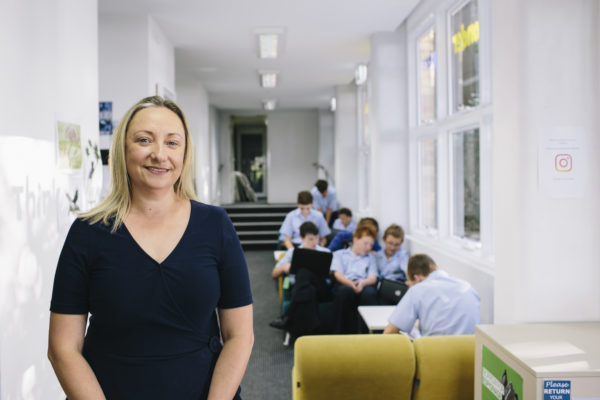 Inaugural Launch of the Senior Academic Scholarship
20 October 2023
Following yesterday's College assembly, we are delighted to announce the inaugural launch of our Senior Academic Scholarship, a prestigious opportunity for exceptional students entering Year 10 and Year 11, 2024.
The scholarship program is designed to recognise and support the brightest young minds in our community, fostering their academic growth and nurturing their potential. We are excited to embark on this journey with our future scholars, providing them with the resources and guidance they need to excel in their academic pursuits.
Applications are now open for 2024 and 2025:
For Year 10 and Year 11, 2024
>>> Click here for Year 10 and Year 11 2024
For Year 7 and Year 10, 2025 please apply through our website by clicking the link below
https://waverley.nsw.edu.au/information/scholarships/
In this week's assembly I shared a wonderful story of one of our 2015 graduates, Adam Hegedus. In 2016 Adam co-founded a not for profit organisation – Educating the Future – with a fellow Waverley College graduate, Alessandro Piovano.
They had a vision to empower members of impoverished communities to achieve an improved quality of life and capacity to achieve their potential. Within a year, they built their first pre-school in Timor-Leste. Now they are in plans for pre-schools 4 and 5, have raised close to half a million dollars, and engaged 200 volunteers who are young leaders in this region.
View the TED presentation below to learn more about Adam's story.
Never Too Young to Start
When Adam conceived of this vision, the feedback he was given from a professional in industry was, "you are too young to create change." Adam's response was not to give up but, instead, to demonstrate great resilience and determination to be in a position where he built his first school just six months later.
Adam speaks about how our young people are the biggest under-utilised talent. There are students in our College community who have the potential to make a significant contribution to the world. There are students like Adam who understand this involves not just ambition but the disposition to value learning. They understand that you do not receive an education, a school is not a place where you "get" an education, an education comes from what you choose to do with the knowledge and skills that you encounter on your day-to-day journey towards adulthood. 
We are certainly witnessing past and present students using their education to make significant contributions to our world – we want you to know that we see your son, and we want to celebrate his achievements with you. 
This is the type of story that inspired our new Senior Academic Scholarships. In this week's assembly, I challenged our students to reflect on the following questions:
Have you found your passion in the academic domain? 

Are you confident to challenge yourself as a learner to reach your full potential?
Launch of Academic Medals – First in Course and First in Courses
Last week, I had the privilege of meeting with our current student leaders to ensure that they had a voice in our new initiative to launch an academic medal for students who place First in Course and First in Courses. These will be presented at the Presentation Day Ceremonies at the end of this Term.
We have designed these medals in the same rectangular shape as our current Dux of Year and Principal's Award for Excellence medals, so students can wear them with pride on their blazer.
I also reminded students that we track their academic progress from Semester 1 to Semester 2, and we present the students who have made the most significant learning gains and demonstrated a growth mindset, early next year. These students will receive a Principal's Award for Academic Effort.
During the assembly on the first day back, Ms Smith challenged students to set smart goals. Perhaps these goals could lead to an effort award or the start of a collection of an impressive set of medals for excelling in a field in which students find joy.
Ms Lynsey Porter
(Acting) Deputy Principal – Teaching & Learning
lporter@waverley.nsw.edu.au
---
2023 OnStage Individual Performance Nominations
The 2023 HSC Drama class should be proud of their achievements. For their efforts, the class has received four individual nominations for OnStage, the annual showcase of the best HSC Drama performances in the state! To be nominated indicates outstanding achievement in the subject.
Matthew Woods received an OnSTAGE nomination for his moving and compelling portrayal of the central character from 'The Curious Incident of the Dog at Night Time'. Christopher, a young autistic boy who has recently lost his mother, sets out to solve the murder of Wellington the Dog, using his maths ability and his fascination with details. He discovers far more than he bargained for. Matthew delivered a detailed and nuanced performance, packing a huge emotional punch.
Bert Cottell brought the character of Eugene Morris Jerome to life, from Neil Simon's famous semi-autobiographical play, 'Brighton Beach Memoirs'. 14 year-old Eugene is trying make sense of his fracturing family while dealing with the end of puberty and his sudden urgent interest in girls. Bert has created a tremendously charming and touching coming-of-age piece.
Sam Stewart tackled the fast-paced and physically intense play, 'Shadowboxing', by James Gaddas. Sam created a stunning emotional portrait of a son struggling with the complex memory of his estranged father, through the prism of the brutal world of professional boxing.
Evander Hudson explored the fractured emotional landscape of a soldier's PTSD and the profound bond between Man and companion animal in, 'You're my Horse'. A haunted light horseman is driven to show the final mercy to his suffering best friend. Evander's mature and compelling performance was devastatingly powerful.
Let's celebrate the talent and hard work of the whole HSC Drama cohort of 2023!
Mr Peter Lamb
Head of Drama
plamb@waverley.nsw.edu.au
SHAPE 2024 Showcase Nominations
We would like to celebrate two groups of outstanding Technology students who have gone above and beyond, and their hard work and innovative thinking have earned them deserved nomination for the SHAPE 2024 showcase.
Kit Armstrong, Ruben Stock, Mitchell Cahill, Tom Gleeson, Max Dimitrijevic, Samuel Fingleton, and Darcy Standfield are among the hardest working students at our school, and they've been nominated to be part of SHAPE showcase with their exceptional practical projects. These young men have harnessed their creativity, technical skills, and dedication to create projects that are very professional in their outcome.
Kit Armstrong brings innovation to the forefront with his 'SES Dual Power Generator.' His project not only showcases a 'genuine need' energy solution but also an acute understanding of the pressing environmental problems faced in Australia.
Ruben Stock has truly thought outside the box with his glueless, screwless, flatpack student desk and storage bag. His design not only speaks to the needs of students for functional yet portable workspaces, but also embodies the principles of minimalism and eco-consciousness.
Mitchell Cahill invites us into the realm of on trend design with his 'River Entertainment Unit.' His creation combines functionality and aesthetics, setting a new standard for entertainment units while embracing the natural beauty of river pours.
Tom Gleeson innovated the heart of his home with his 'Kitchen Island.' A fusion of form and function, this project redefines the focal point of every household, making it not just a cooking space but a social hub.
Max Dimitrijevic presented one of the most beautiful student desks I have had the pleasure of watching come together. His 'Parquetry Student Desk' stands as a testament to the art of precision and the elegance of design. It beautifully blends beauty and function, making it an inspiring workspace for future endeavours.
Samuel Fingleton takes us back in time with his 'Rocking Chair.' This piece brings a classic touch to modern living, and Samuel's work reflects craftsmanship and an appreciation for timeless design.
Darcy Standfield demonstrates his flair for combining elegance and recreation with his 'Upholstered Poker Table.' This project was so beautifully crafted it makes professional tables look amateur. Well done Darcy, on adding sophistication to a classic game.
A huge thank you and congratulations to their teachers and mentors, Ms Kim Spicer, Mr Matthew Barr, Mr Stephen Wilmot and Mr Perry Stanbrook. The invaluable time, support, guidance and most of all patience with the boys, have enabled this to be our strongest nomination group in many years.
Mr James Spargo
Head of Technologies
jspargo@waverley.nsw.edu.au