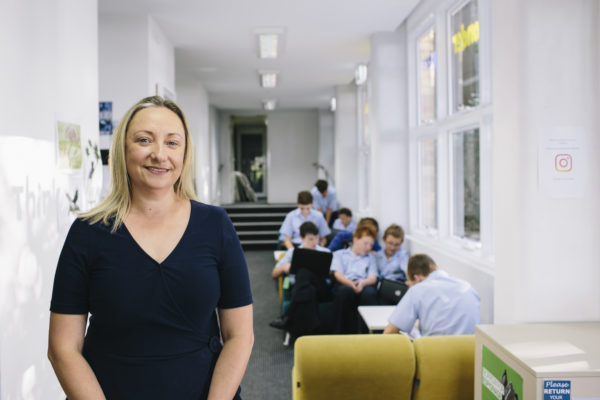 Staff Professional Learning
"Teachers work together – propelled and critically challenged by expert input, to learn, shape and strengthen teaching practice for ongoing student progress and achievement." – The High Impact Professional Learning Model.
Click here to view information about The High Impact Professional Learning Model
At the end of Term 3 and the start of Term 4, we continued our provision of quality professional learning during the staff professional learning days. Waverley College certainly recognises the value of expert teachers working together for the benefit of our students.
We dedicated some time during the Professional Learning days for teams to collaborate in faculties to continue the work we are doing to prepare for curriculum reform – particularly with new syllabuses in English, Mathematics, Geography, Languages and Technologies – and the strategic priority areas of Deep Learning, Writer's Toolbox, Data Analytics, Literacy and Formative Task Design.
Below is a snapshot of some of the other ways our staff shared their expertise with colleagues during these sessions.
Your Influence – What's Driving your Motivation, Passion and Purpose?
Ms Marie-Anne Maakrun delivered a workshop on what drives our motivation, and shared her expertise and current research on Motivation 3.0 in 21st Century workplaces on the importance of autonomy, mastery and purpose as key drivers.
Specifically, she defined autonomy as having control over what we do and how we do it, mastery as the desire to improve, and purpose as understanding the 'why' as much as the 'how'. Teachers reflected on what gives them energy and joy in their work and considered this in terms of how to motivate the students in their care.
ySafe – Cyber Safety Presentation
"ySafe's holistic and engaging cyber safety programs and services equip school communities to thrive in the online world." – ySafe.
Click here to view more information about ySafe
As a part of the College's proactive stance in working with our community to navigate the benefits and challenges of the digital world, all staff participated in a session with one of our expert partners, ySafe. The session served to upskill our teachers regarding the range of social media platforms that our students may be using, and the risks associated with them.
We explored an overview of the current digital landscape and developed some strategies for encouraging students to think critically about online information that they access. It was really validating to know that the work we are currently doing, such as the Year 7 program we have developed to teach students how to use Artificial Software with integrity (outlined by Mr William Roberts in the Nurrunga article below), is an example of how we can proactively work with students in the digital world.
Click here to view the Nurrunga article by Mr Roberts
First Aid Training
We need to ensure that our school remains a safe place for our students both on campus and during excursions. To this end, a team of staff delivered a series of rotational First Aid sessions to ensure that all are up-to-date with First Aid Training. It was really helpful for colleagues to share their expertise with their peers and to have this delivered in such a professional and practical way.
Ms Lynsey Porter
(Acting) Deputy Principal – Teaching & Learning
lporter@waverley.nsw.edu.au