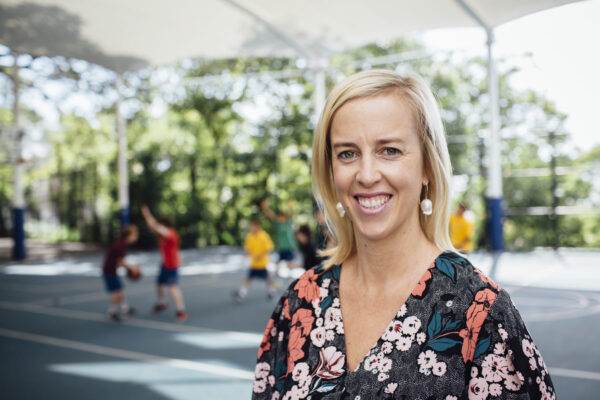 Guest Speaker, Shaun Tomson
On Tuesday morning, students from Years 5-7 had the privilege of hearing from guest speaker Shaun Tomson – a true icon in the world of surfing. Shaun shared the life lessons surfing has taught him. He says "surfing teaches you to never turn your back on the ocean, it teaches you about humility, it teaches you about perseverance and resilience. It teaches you about making good choices in your life – whether you surf or not."
Shaun Tomson is the 1977 World Surfing Champion – and he's here in Australia to promote a film, 'Free Ride' in which he stars. He's ridden some of the biggest waves, including Pipeline, and won.
Shaun is a leadership and change management expert and lectures widely on the Code Method, a high-impact program that activates the power of purpose to improve motivation, engagement and performance.
As an entrepreneur, he founded and sold two market-leading, international clothing brands, and is the author of three #1 Amazon best-selling books on self-empowerment.
Shaun's powerful method of self-transformation has been used by over a million people to create profound life change. His simple mission is to help individuals activate their own personal Code to live a better and more purposeful life.
The boys thoroughly enjoyed the presentation and Shaun commented on how attentive the boys were.
Paul Dillon Parent Presentation
On Tuesday evening, over 100 parents/carers from the Junior School and Senior School attended the Paul Dillon parent presentation in the Performing Arts Centre.
Paul Dillon has been working in the area of drug education for almost 30 years. He works with many school communities to ensure they have access to quality information and best practice drug education.
An ex-school teacher, Paul has an interest in working with young people, and regularly provides drug information sessions and workshops to students across the country. His best-selling book for parents titled 'Teenagers, Alcohol and Drugs' was published in 2009 and has since been released internationally, and translated into a number of languages.
Paul examined the history of 'teenagers', rebellion and the different 'temptations' that have existed over time. Using the latest research on the developing brain, he also discussed why young people make the decisions they do during this time. Sleepovers, parties and gatherings provide teens with valuable opportunities to develop important socialising skills but are not 'risk-free'.
It was wonderful to hear some of his practical strategies and tips for parents considering allowing their teen to attend such events to help ensure they are as safe as possible.
SchoolTV Special Report: Gambling and Young People
The digital era has made gambling more accessible, and certain factors are elevating the risk of problematic gambling among young people. A new grey area is emerging, with smartphones at their fingertips blurring the boundaries between gambling and entertainment, especially within the realms of video games and social media. The current generation of young people are growing up in an unprecedented time and research highlights that a significant percentage of adolescents are involved in gambling activities.
Reports of young people gambling are frequent with many experiencing adverse consequences such as diminished academic performance and strained relationships. Today's youth are growing up in a digital age characterised by constant connectivity, and the gambling industry has evolved significantly during their formative years. Simulated gambling, such as in video games, can further increase the likelihood of teenagers transitioning to real-money gambling and developing future gambling-related problems.
It's crucial to foster open discussions about positive media choices to help children navigate through responsible online gaming and gambling. By encouraging a balanced approach to screen time and promoting alternative activities, will help set some clear boundaries to avoid potential gambling-related issues.
This Special Report provides guidance on how to empower young people to make responsible choices in this digital age. We hope you take a moment to reflect on the information offered, and as always, we welcome your feedback. If this raises any concerns for you, a loved one or the wellbeing of your child, please consider seeking medical or professional help.
Source: SchoolTV
Click here to view the SchoolTV special report.
Ms Gabby Smith
Deputy Principal – Students
gsmith@waverley.nsw.edu.au
---
Christmas Appeal for the Matthew Talbot Hostel: Donations Requested
Matthew Talbot Hostel is a wonderful organisation helping over 35,000 Sydney men each year in providing accommodation, health, counselling and employment assistance. Waverley has had a long history of boys helping in its kiosk in Woolloomooloo, and strongly contributing towards making Christmas easier for those in need.
All boys from all Houses from Years 5-12 are encouraged to bring in toiletry and other items in order to be able to provide essential packs for the homeless and marginalised groups which the Matt Talbot Hostel provides assistance for.
This will run from Week 4 for the whole month of November. Tevlin House students have their Social Justice focus area in homelessness, and will be actively promoting the request to contribute items, and reflect the new Waverley theme of "stronger together, united as one."
All donations can be brought into daily Mentor Groups, or to the Wellbeing Centre (Senior School), or Junior School Office.
Item list for Waverley Students to Bring in (please note these items must be new):
Toiletry Pack Items – small traveller size ideal (150 toiletry packs are distributed each fortnight to the men accessing services at MTH)
toothpaste and toothbrush
soap / body wash
razor, shaving foam/ gel
deodorant (small roll on variety)
combs
tissues (small packets)
q tips (cotton buds)
nail clippers
Mens underpants (XL and XXL especially required)
Socks (plain white or black in L size)
Many thanks for your support of this great appeal.
Mr John McCallum
Head of Tevlin House
jmccallum@waverley.nsw.edu.au