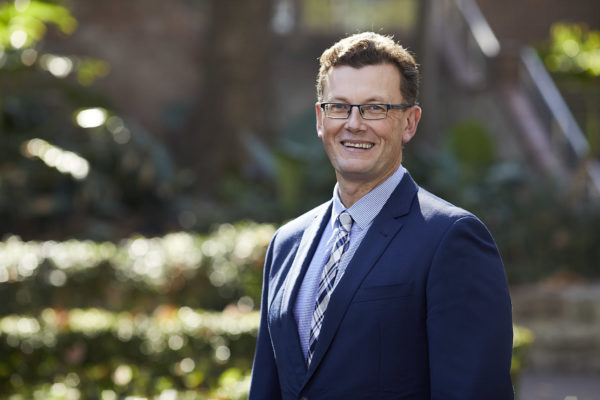 We acknowledge the Gadigal people of the Eora nation as the Traditional Owners of the land where this article was written and where Waverley is located today. We pay our respects to Elders past, present and emerging. 
Reconciliation Week Assembly Speech 
I would like to thank Mr Michael O'Loughlin, Aboriginal artist Mr Billy Reynolds and Mrs Fran Grant for their presence here today and for assisting us all to celebrate National Reconciliation Week, but also remembering that reconciliation is a process and a journey, not a day or week event. 
By dictionary definition, 'reconciliation' means:
the restoration of friendly relations
the action of making one view or belief compatible with another
Let's start with the first definition – the restoration of friendly relations. I certainly believe that if someone arrived from overseas and took over the land where I lived, killed many of my people via murder and disease, changed all the natural systems around me, and treated me as not human, then friendly relations would be very hard to extend. Yet, Aboriginal and Torres Strait Islander peoples are extending the olive branch to us all. They are wanting to share their 60,000 + year culture with us, the world's oldest living human culture, and they are wanting respectful relationships.
The second definition, the action of making one view or belief compatible with another, certainly brings up passionate debate among people. And I certainly acknowledge my bias when I put forward my thoughts on the subject. My parents came to Australia in 1959 from Scotland. We lived in Middle Cove Sydney and I attended an independent school. This skews how I look at the world and it skews how I am treated in this world. All of us bring our own learned bias into respective situations.
Sometimes, there is debate about our current National Anthem Advance Australia Fair. Is it inclusive for all Australians? There has been a change recently to try and address some of that debate, but it still does not mention Australia's First Nations Peoples. For many people, this needs to occur to assist in reconciliation. 
Advance Australia Fair was chosen as the national anthem in 1984. That was only 37 years ago, replacing God Save the Queen which was decided as our National Anthem at Federation in 1901. 37 years is not very old, to my way of thinking; flexibility shouldn't be too hard in this space. New Zealand's national anthem has both English and Maori languages, and South Africa's national anthem employs five different languages in the same version of the official lyrics.
Australia's Constitution is another area that brings debate. Australia's First Nations Peoples are not mentioned in it – 60,000+ years of connection to land not recognised. When I look at America's Constitution, particularly the second amendment 'the right to carry arms', it reminds me that sometimes constitutions need updating, and need to represent new learnings and wisdom.
And finally, the date of Australia Day, 26 January, creates more and more debate each year. For some Australians, the date makes sense as it marks the 1788 landing of the First Fleet at Sydney Cove and raising of the Union Flag by Arthur Phillip. For others, it represents the day they were invaded, the day they lost their Country, and life changing forever. 
If we go back to the second meaning of the word 'reconciliation', the action of making one view or belief compatible with another, it is hard to see how keeping 26 January as our national day is going to be compatible. Particularly if we are trying to build respectful relationships and trust between the broader Australian community and Aboriginal and Torres Strait Islander peoples. 
Sometimes, to move forward, you need to acknowledge the past, one's failings and learnings, and these can take time. But you who represent Australia's youth, can increase the speed of reconciliation, of truth telling and of change needed for our reconciliation journey. 
This year's theme urges us all to take action for reconciliation and on the National Reconciliation website they suggest 20 actions. I chose three that jumped out for me:
Call Out Racism

It's all our history

Challenge our leaders to take action on justice
New Indigenous Round Jersey Launched
Yesterday we launched our new Indigenous round jersey, designed by local Aboriginal artist and Yuin man, Billy Reynolds. Billy's artwork Coastal Connections is about the grounds on which we play today, Queens Park, which was once connected to Centennial Park.
The area was once a meeting place for the Bidjigal, Kameygal and Gweagal people of Botany Bay and the Gadigal and Birrabirragal people, who lived nearer to Watsons Bay. The parks had fresh waterways which provided Aboriginal people with plentiful food and spaces for them to camp, trade and hold meetings during their journeys.
The circle in the middle of Billy's artwork represents this meeting place and the features on either side represent Aboriginal people coming together. As Waverley is on the coast, Billy used gradients of blue and yellow to represent the land meeting the ocean.
We would like to thank artist Billy Reynolds, parent Fran Grant, and designer Jonathan Ward for this special collaboration. Below you can watch Billy's reaction as he sees his artwork on the Indigenous Round jersey for the very first time.
Waverley Youth Art Prize 
I'd also like to make a special mention to all students who put themselves and their artworks forward for entry into the recent Waverley Youth Art Prize and Clancy Religious Art Prize. It takes courage to enter art competitions because you are putting yourself and your unique work out there. It shows a belief in your own strengths, your ambition to develop your talents, and does a great deal to nurture your self-confidence.
Congratulations to our three Waverley Youth Art Prize winners: 
1st Prize for 13 – 15 years – Joao Luca Coelho-Cornelius for his artwork

Family Tree.
3rd Prize for 9 – 12 years

–

Oliver Isaac for his artwork

The Duck Family.
3rd Prize for 16 – 18 years

–

Logan McAuliffe for his artwork

A Hidden Message.
Click here to read more and watch the Waverley Youth Art Prize Winner Announcement in the article by Visual Arts teacher Ms Jenna Turnbull.