What a year 2020 has been! We have all faced a year that no one could describe or ever imagine happening. Our boys were faced with so many challenges this year and have proven the amazing resilience and ability they have to adapt to change. One of the biggest challenges our students faced this year was remote learning. The way the boys were used to learning and interacting with their teachers and peers had completely changed. I have enjoyed watching our boys return to a lot more normality in Terms 3 and 4. I have watched our boys flourish as they engaged with the learning and co-curricular programs on offer. The boys had a renewed love for learning and purpose. 
This year we introduced Five Core Values – Respect, Compassion, Responsibility, Commitment, and Resilience. These core values underpinned who we are, how we act, and what we value as a school. As a whole school, we engaged in discussions and activities around the meaning and the importance behind the creation of our core values and how they are the principles that guide us daily to make the right choices. 
The boys have emerged from 2020 with strength, appreciation for learning, open-mindedness, and an understanding of the importance of connection and human interaction. I am so proud of what they have achieved this year and their individual growth.
I would like to thank all of you for your support for the school and your contribution to our community. I also acknowledge the hard-working and dedicated Junior School staff supporting your boys to reach their potential. I particularly want to acknowledge Mr Greg Harris who will be sadly leaving us this year. Greg has worked at Waverley College for 23 years and has played a significant role in the formation of our young men. His unwavering dedication and commitment to Junior School sports has created a legacy for years to come. He was involved in the Armidale tour since 2007 and coached the Prep 1st since 2000. He has been a dedicated, caring, hard-working practitioner and leader. We wish him all the happiness as he moves into the next chapter of his life. 
Wishing you all a very happy and safe break and Christmas. 
Highlights of Teaching and Learning in 2020
From Acting Assistant Director of Curriculum, Ms Charlotte Stephens
2020 has been a challenging year in many ways but it has not stopped the amazing Teaching and Learning experiences here at the Junior School. Despite having to adapt many of the rich curriculum-related incursions and excursions we have previously taken for granted we have been fortunate enough to continue with many through zoom. As a learning community we have come together and really focused on developing challenging and innovative learning programs for our boys and, improving communication between school and home with the introduction of our Termly Curriculum Overviews. 
In Term 1, Year 5 were able to go on their Science and Technology excursion to the Wollongong University Innovation Campus. There, students were able to visit the planetarium and interact with a 3D exploration of Space, take part in hands-on experiments and watch an incredible Science show. We were so lucky to be able to go on this excursion before any restrictions made visits to other locations no longer an option.
In Term 4, Year 6 were able to take part in a challenging and enjoyable robotics program called Robo Bricks. During each lesson, students employed mechanical engineering skills to build a robot and software engineering skills to code the robot to perform the desired tasks. The boys completed this program as part of their Science and Technology Unit – Growing the Future. This program focused primarily on the Digital Technologies content strand whilst still creating robots that fit in with the Living Things content strand.
In our final term, with the easing of restrictions, we have been able to utilise the many amazing resources available to us on our Senior Campus. Year 5 were able to take part in a Visual Arts Incursion under the guidance of Ms Natalie Oates, the Head of Art. The students created beautiful prints using natural materials in the Senior School Art rooms.
Year 6 were lucky enough to participate in a Technology and Applied Studies (TAS) experience focusing on sustainable farming practices in the form of a paddock to plate program. The boys had a tour of the kitchens, TAS workshops, composting system and native bees before taking part in a cooking activity where they made garlic bread with herbs grown in the school garden.
It has been a truly unique year, our students have shown determination and persistence with their learning. Congratulations to all for an incredible year of learning in the most challenging of circumstances, I look forward to a wonderful year of new and exciting Curriculum experiences in 2021. 
Highlights from the Learning Hub
From Ms Natasha Zivanovic, Primary Literacy and Innovation Teacher
Congratulations to all the boys that submitted their LEGO creation over the last few weeks. The great thing about building with LEGO bricks, there is no such thing as a right or wrong answer: there are just millions of potential ways you can achieve something. 
The judge was impressed by all submissions. Well done to all the boys and a HUGE congratulations to the prize winners:
Excellence in Design and Building
Richard Nestor
Alex Janis
Outstanding Critical and Creative Thinking
Thomas Maxwell
Jack Daley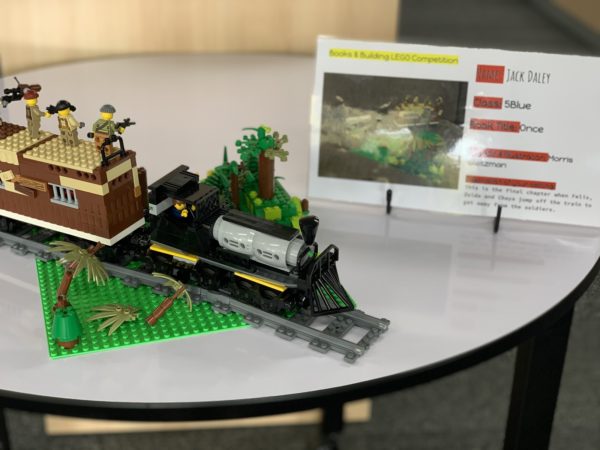 As I reflect on this year, I am grateful that the boys were able to enjoy the Learning Hub during most parts of the year. The COVID-19 pandemic took everyone by surprise.
This versatile learning environment seamlessly adapted to COVID and became the perfect balance for social and academic use. Watching the boys interact, collaborate, build and 3D print was extremely rewarding. I often hear the boys talk about this space in a positive light and let me assure you the sense of enjoyment and energy is real.
The Learning Hub continues to evolve to keep up with the boys and their needs. Over the busy year, we have had a variety of initiatives, which included lunchtime talks, virtual Book Week, virtual debating, cyber safety, board games, drawing and writing competitions, reading hour and lastly the LEGO Building competition.
I have enjoyed every moment of the boys learning in this magnificent space and I look forward to a productive 2021. 
Thank you for your continued support and I wish all Waverley families a Merry Christmas and safe New Year.
Mr Stephen Ghattas – Assistant Director of Identity & Student Formation
2020 saw many of the religious components to both the Junior and Senior School either cancelled or transformed into virtual presentations. Despite this, the boys were still involved in promoting many of the different causes and initiatives that we could and still immersed themselves into the different wellbeing focuses and national days/weeks of action and solidarity.
Throughout the year different feast days and special occasions were celebrated, including our Mother's Day and Father's Day celebrations. Although these were virtual presentations, I know that the sense of occasion was still present in the boys and their families.  
R U OK? Day, National Reconciliation Week, Refugee Week and NAIDOC week were also celebrated on both campuses. Different activities were organised and special guests invited into our school to discuss relevant and heartwarming stories with the students.
The students were also involved in many different charity appeals throughout the year. These included our Lenten Appeal for Caritas, the annual Walkathon, Beanies for Brain Cancer, Best Foot Forward, the Matthew Talbot Appeal and our Christmas Hamper Appeal. As a school, we are very appreciative of the support from all students and families in what has been an extremely difficult year for everyone.  
Our Student Representative Council worked together this year to form the basis of what we hope will continue into next year and beyond. Ms Gabrielle Bransby introduced us to the 5 Core Values that we hope every student leaves the Junior School with at the end of Year 6 – Respect, Compassion, Responsibility, Commitment and Resilience. The SRC delved deeper and passed on how they best feel the students at the Junior School could live up to these values. We encourage the current Year 5 students to step up next year and be good role models for their younger peers.
The year finished off with the Year 6 Graduation held in the Senior School chapel, a memorable occasion for all involved. We wish all the students a very smooth and enjoyable transition into Senior School, whether they are continuing their journey at Waverley College or elsewhere.
To all families, have a very Merry Christmas and a Happy New Year!
Mr Matthew Ryan – Assistant Director of Co-Curricular
2020 was a very different year for our Co-Curricular program at the Junior School and resulted in shortened or varied seasons, changes in opposition and even cancellations. The year started with our summer sports trials which is always a tough initiation for our new Year 5 Students. After a long day of trials and selections, we had our summer sports teams for Term 1 organised.  This was the only term of IPSHA sport that was not altered by the COVID-19 pandemic.
In Week 3 we held our annual Junior School swimming carnival. On a fine day, the students participated in all the traditional events and then some novelty events such as the ever-popular board relay, tennis ball throw and even the basketball relay. A great time was had by all and Brennan House ran out winners of the 2020 House Carnival. As a result of restrictions, we were unable to have our Cross Country and House Athletics Carnival this year.
The winter season of Rugby, Football and AFL started late and finished early due to COVID-19 restrictions. Nevertheless, the boys did get the opportunity to play four games of competition against other IPSHA schools which was great. When we did make it on the field the boys really enjoyed representing the College and did so with great sportsmanship and pride.  
In Term 3 we did get an opportunity to play the most loved Junior School Blitz Day. A whole day of Rugby, Football and AFL played at Queens Park in great conditions. This day is a chance for the boys to compete against the other Houses to see who is the best sporting House in the Junior School. The day is always competitive and 2020 was no different. Tevlin/O'Connor were crowned the champions of the day and all students thoroughly enjoyed participating.
Term 4 saw our return to summer sport and we played a full six round season, which was modified into zones so that our travel was restricted.  It was really good to see the boys out representing the school again in their full capacity and returning to a little bit of normal life. Round 12 saw the Year 6 students represent the Junior School for the final time as they continue on their schooling journey and make their way to Year 7. We look forward to watching them be successful in the coming years and watching them play for the first teams in the not too distant future.
Finally, I would like to thank all the staff, students and parents for their continued support and effort during this difficult year and wish everyone a Merry Christmas and a great 2021.
Ms Michelle Rollins – Performing Arts 
2020 has been a hard year for the arts. Early COVID-19 restrictions forced the cancellation of many activities and events.
In July, the Junior School was informed that Wakakirri 2020 would not go ahead. This was devastating as we have participated in this drama event for the last twenty-three years. We needed a plan B!
The Tree House, a drama written for Primary students by Australian playwright Matthew Ryan, was perfect. It's four separate scenes allowed us to follow restrictions and rehearse in small numbers within year groups to begin with.
In Term 4 we were finally able to bring the whole cast together and work towards our performance. Follow the life of a tree growing inside a house and all the lives it affects along the way. From a young boy dealing with change, adults too busy to enjoy life, a poor family at Christmas and renovators intent on knocking the tree down – no one escapes the influence of the tree.