FROM THE ACTING DIRECTOR OF THE JUNIOR SCHOOL, GREG HARRIS
Prayer of the Week – For our Community
This term we have come to learn of the sufferings and illnesses of both our staff and students.  May we offer the thoughts and prayers to both the families and friends of all those in need.
Jesus, you're with us.
Although you are not seen, we know that you are by our side.
Jesus, you love us,
More than we could know,
And we know that you feel each tear that we cry.
Jesus, we trust you,
To take hold of our hands,
Until we are recovered and well.
Jesus, you promised,
To comfort and care for us,
Until we are playing and laughing again.
Thank you, Jesus
Amen
(nursebuff.com)
St Mary of the Cross: Pray for Us
Blessed Edmund Rice: Pray for Us
Live Jesus in our Hearts: Forever
Student Illness – Hugo Kulcsar (6 Gold)
It is with great sadness that I inform you of the devastating news that one of our students, Hugo Kulcsar, has been diagnosed with Leukaemia last week – Wednesday of Week 6.
Staff have already visited Hugo and his family in hospital and have spoken with Hugo's parents, Frank and Denai. They are happy for this information to be shared. Hugo has already had his bone marrow biopsy and some other procedures to prepare him for his Chemotherapy, which began this week. Hugo's treatment will begin now and it will be intense. He will be mostly in and out of the hospital, for most of the next 6 months in the hope of getting all this under control. He will have time when he can join us at school for a few hours on different days and we will really look forward to having him back.
The family are in good spirits but understandably upset. Denai (mum) lost her father to Leukaemia, so they are shocked that they are going through it all again, despite it being a different type of Leukaemia.
We know this news will be very difficult for the boys at school to cope with and as a school community, we will all be very sensitive to their reactions and feelings. Support will be offered with our counsellors, Mr Fleming and Mrs Schmitz, to reassure the boys that Hugo is being very well looked after. We are all shocked by this terrible news.
We will look after all the boys at school as they cope with their dear friend's illness. As a class 6 Gold are already planning ways to show their love and care for Hugo. We have been in touch with one of the Oncology Nurses, in Donna Drew, who will speak with the staff this week and we will work out a time she can also talk with the boys next week. Donna is Lachlan Drew-Morris' mum (Former College Captain) and one of the Oncology Nurse Consultants at Sydney Children's Hospital. She has been a wonderful support to the College for many years.
She met with us today to layout Hugo's treatment and what we can do to help over this time. She made it very clear to us that Hugo is in the best of care; that a lot can be done to help him and they are having very good success rates with this cancer. Still we must all be aware that the treatment is intense for Hugo and all involved. 
We are already receiving many sincere messages of support for Hugo and his family. Your kindness and your generosity in offering to help is greatly appreciated. Close friends of the Kulcsar Family are setting up a website to plan meals to show their support. This will be finalised soon and we will send you the link when it is ready. 
I ask you all to keep Hugo and the family in your thoughts and prayers at this time.
If you feel you would like to discuss this further with your son here is a great link to a 35-minute Podcast from the Cancer Council on how to talk to children about cancer. You may find it beneficial.
Rugby Representative Weekend – State Championships
Many of our rugby boys were off representing their local districts at the various state carnivals being held across NSW over the long weekend.
The U12s, including quite a number of our Waverley boys, ended up out at Camden and this is the team that Hugo Kulcsar is in. If not for his stay in hospital, Hugo would have been out with his mates playing too.
Mary Ryan (James Nestor's mum) kindly shared some details of the weekend.
"The boys thought of Hugo all the time. The boys played out of their skins but they certainly did miss Hugo's fiery passion against some of the bigger sides, like Paramatta and Penrith."
Stiles Science Program – Initiatives in Curriculum at Waterford – Ms Bransby and Ms Stephens – Tuesday 5th June
Last week we had a visit from a company promoting a new Science Program that has been purpose built to fit the Australian and NSW Curriculum. This program is already being trialled in some classes.
Stile was founded in 2012 by entrepreneur, educator, and scientist Dr Alan Finkel (currently serving as Australia's Chief Scientist) out of a desire to inspire kids and spark a lifelong interest in science and the world around them. Since then, a passionate group of teachers, scientists and engineers have come together around this mission, building compelling, professionally curated science content, and cutting-edge lesson delivery technology that makes teaching easier and more effective.
Today, they partner with leading science organisations and schools in their continuing mission to enliven science, support teachers, and rethink our approach to STEM education as a whole. If you want to know more here is the website about this interactive and hands on science program.
We thank Gaby Bransby and Charlotte Stephens for yet another great initiative being introduced into the Junior School.
Edmund Rice Theme Day – Thank you Mr Ghattas – Thursday 7th June
On Thursday 7th June the boys at Waterford participated in our Annual Edmund Rice Day.  Boys arrived full of energy dressed in an array of mufti clothes and began the morning in their own classrooms, completing activities that were based on the life on Edmund Rice.
5 Gold then led us in a beautiful Prayer Service that highlighted some of the important events of Blessed Edmund Rice's life. After recess, the boys watched a movie that delivered a powerful message about the importance of treating one another with the respect that they deserve, despite any differences that we have.
The day was capped off with fund-raising activities at lunchtime, basketball, rugby and AFL games where the boys were encouraged to play for prizes.  There was plenty of excitement on the playground and all boys participated with great enthusiasm.
All in all, the boys had a great day and managed to raise $830 for The Smith Family.  The Smith Family will use this money to assist families in our local communities to ensure that their children have access to quality education and resources.  I know that the Smith Family are very grateful of the boys' generosity.
The Cyberbully Incursion – Year 5 – Tuesday 12th June
As part of the Y5 Computer Studies Program the boys got to experience a drama production on Tuesday afternoon called the 'Cyberbully'. Not a bad time to discuss with your son what he learned and how they can better control their use of technology at home in a positive way.
The play tells the story of Zoe and her cousin Edward who have a lot of time on their hands. They are always online. One day Zoe discovers she can torment the girls she doesn't like in her class using her favourite social networking sites and her mobile phone. She and Edward let loose thinking its harmless fun. Neither realises the impact of their actions. Things get a little crazy and Zoe starts suffering textiety, post traumatic texting disorder not to mention post text depression. Eventually Edward and Zoe face the consequences of their actions.
The Cyber Bully is an entertaining play that explores the serious issue of cyber bullying among young people. The play looks at the misuse of texting, social networking sites and unauthorized use of pictures and footage. There will be a de-brief session offered after the performance where the actors will address important issues that are raised during the play and occur due to cyber bullying.
Men's Health Week – Thursday 14th June
The theme of this week's Men's Health Week is Men and Family: Making Healthy Connections. Sharing a common interest and spending time together with friends and family is a huge protective factor in terms of Mental and Emotional Health and Wellbeing. With men in general, and Australian men more specifically, sport often provides a common interest and a shared experience from which our Wellbeing can grow and flourish. 
In the Junior School we took this theme and looked at some of the things that we thought would help our boys grow in their families and in the school family. Mrs Schmitz took on the Men's Health Week Assembly on Thursday and challenged boys to be true to themselves. Our weekly Wellbeing Sessions challenged the boys to be true to themselves even when they make mistakes and that the mistakes we make in life are the times when we learn the most about ourselves. Our mistakes are opportunities to grow in resilience.
Some groups also prepared themselves breakfast to celebrate healthy eating and celebrate their House Family. Either way the boys finished the week with many positive messages to celebrate Men's Health Week.
Confirmation – St Mary's Cathedral Sunday 17th June
The final Confirmation Lesson for the term is this Friday (Week 7) in the 5 Blue Classroom from 7:30am to 8:15am with Mr Ghattas. Once this is done all the boys in the local parish will be ready to make their Confirmation and become full and active members of their church. We wish all boys well in their preparation and congratulate them on taking this big step forward with their faith. Enjoy the ceremony at St Mary's Cathedral. Take it in and make your commitment sound and true.
Much thanks to Mr Gill and Mr Ghattas who have worked together to bring the boys to this point of their preparation and giving up so much of their time to attend meetings, classes and masses all in their own time.
Cantores – City of Sydney Eisteddfod for Schools – Next Week – Monday 18th June
Next Monday Mrs Rollins and Mr Ryan will be accompanying the boys in the Cantores as they head to The Concourse Concert Hall – 409 Victoria Ave, Chatswood, NSW 2067, Australia to attend the 2018 City of Sydney Eisteddfod. This is our first time back at this event after many years of absence due to it clashing with other school events. It is great to have this back on the Music Calendar of the school and a great opportunity for our boys to perform in public.
Parents are invited to join us and tickets can be purchased at the door or online if you choose. 
The boys will be singing a selection of at least two items, which may include sacred & gospel. The total performance time for each group is up to 10 minutes, which includes time taken between items. The boys will be competing for a Winner Prize of: $500 – 2nd Prize: Shield and a 3rd prize: Shield
Wakakirri 2018 – Term Three – Coming Soon – Tuesday 7th August
Mrs. Rollins is in full swing with preparing for the 2018 Wakakirri performance at NIDA – 215 Anzac Parade Kensington NSW 2033 on 7th August 2018 (Performance 1). Mrs. Rollins and three Junior School staff members will be with the boys all day as well as during the performance. The performance starts at 7.15pm sharp. Until the evening we are not advised of the performance order. That means we could be performing first, last or anywhere in between – so please be punctual.
Other Information:
There are 100 boys in our 2018 production.

Behaviour is as important as talent in such a big group. Boys will be expected to be polite and cooperative at all times or their place will be taken by one of the reserves.

If we make it – the final will be on

September 19th, 2018 at Homebush (Performance 2).

The boys will have one last time to "strut their stuff" at the Junior School Music Recital,

November 15th, 2018 (Performance 3).

These dates are compulsory for all boys participating in Wakakirri –

Boys must have made themselves available for ALL THREE PERFORMANCES as per the note sent out

. Please add them to your calendar
Tickets: A limited number of tickets will be sold through the school. These will be sold on a first come, first served basis. These tickets are available through the Waverley College website at a cost of $37.50 each (this is a flat rate – no concession price is available).
Tickets will be on sale from 9.00am Friday 15/6/2018 until 3.00pm Tuesday 19/6/2018.
If tickets sell out before Tuesday 19/6/2018, you will be able to place your order on a waiting list. Please be aware that all orders placed on the waiting list will need to be paid for in full if extra tickets are released to the school.
Sumdog Competition Victories
Congratulations to all the Maths Groups who have involved themselves in the Sumdog Competitions in Mathematics this year. We have had a number of contest wins in a number of classes and our school has picked up some great prizes. We won 4 x 3-month prize subscriptions and 2 x 6-month subscriptions to the value of $390
As we already have Sumdog subscriptions across the school, the company has allowed us to redeem the prize as a discount of $390 against our 2019 renewal costs. Great work boys. Your efforts have given your parents a small discount per boy off your Sumdog subscription for the New Year.
Term One Interim and Mid-Year Reports
Apologies for the time it has taken, but technical difficulties with the Term One Interim Report have taken a lot of time to rectify. We are nearly there and hope to have these reissued to you through the Parent Portal very shortly.
In the meantime, I ask that you understand we are moving into a very busy time for staff with late nights and busy weekends trying to finalise the Semester One Mid-Year Reports. Staff are working particularly hard as they try to ensure boys have lessons prepared; work corrected; sports teams coached and reports marks checked and verified and comments written. I ask you to be patient with your demands of staff at this time.
CBCA Eastern Suburbs Sub-Branch – Wed 20th June
This flyer is from Mrs Tunks, who is on this committee, for the launch night for the Children's Book Council of Australia Eastern Suburbs Sub-Branch. There will be Children's authors speaking so it may be of interest for some parents. This night is for adults (it isn't a Children's event)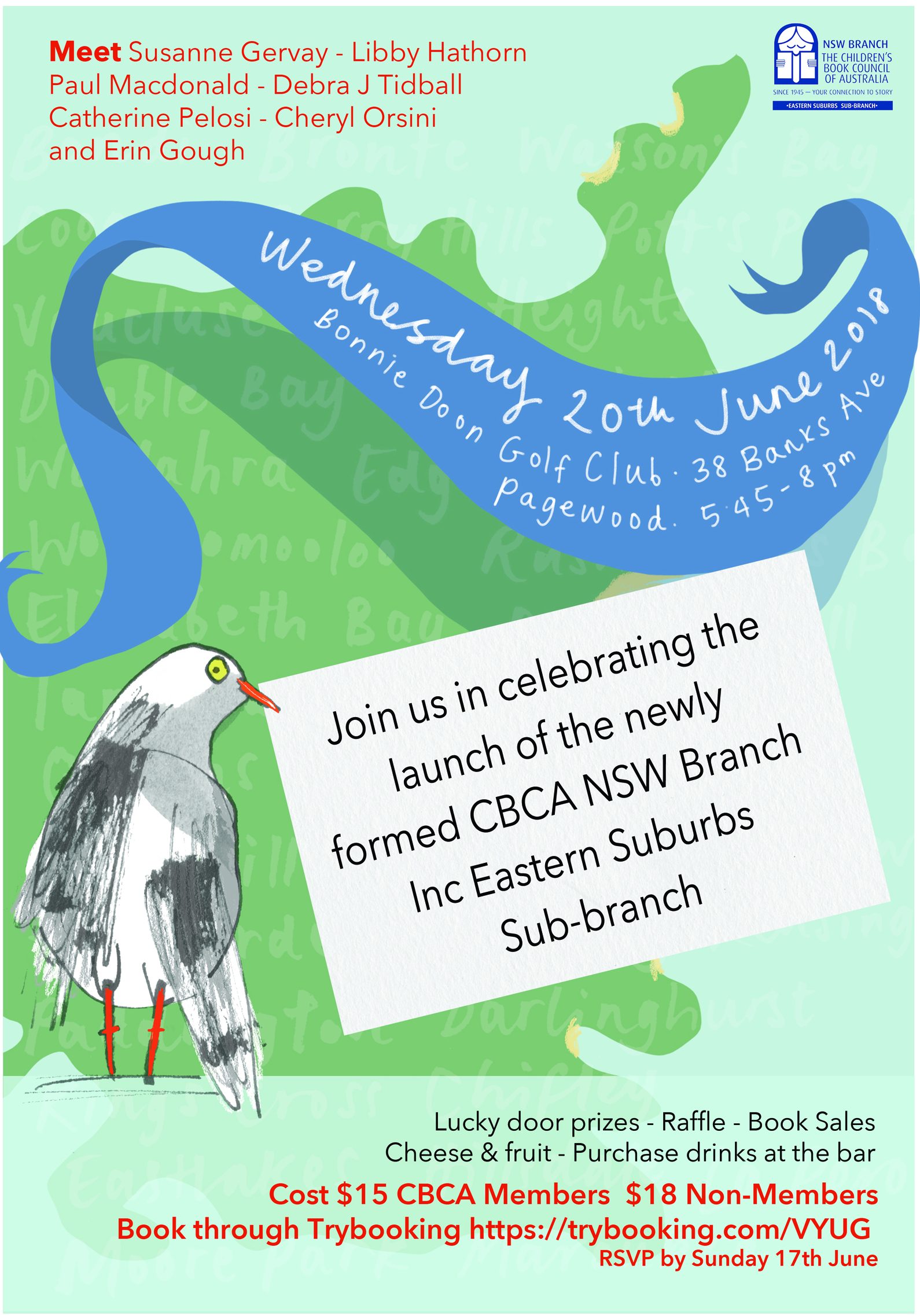 PSSA Hockey State Championships – Campbell Scally (6 Blue)
This week Campbell Scally was given permission from the school to represent the NSW CIS at the PSSA State Hockey Championships. We don't get a lot of requests for hockey through the junior school, so it is a great honour to give such an opportunity. The CIS team played 6 round games where they won 4, drew 1 and lost 1. That loss will be a big talking point in the Scally household, as Campbell's younger twin brothers earned bragging rights over their big brother, as they were in that team representing one of the catholic divisions of Mackillop. Despite that loss the NSW CIS had done enough to make it through to the Semi-Finals securing a 2-1 win. The team then played in a very tight and nail biting final. They were down 2-1 with 30 secs to go but with some great team play they managed to equalise for a final score of 2-2. Both teams were declared joint winners. Campbell had the privilege of scoring the first goal for the CIS. This is the second year that Campbell has been permitted to play for NSW CIS in this competition and twice the squad has finished first.
PSSA Cross Country State Championships – Jack Johnson (5 Green)
We wish Jack Johnson well at the NSW CIS Cross Country Championships being held this week. Many tried, but only Jack was successful in making it to the State level. Run like the wind young man.
Team App for Winter Sport
Sport at Waverley College is an exciting activity that involves every student at all different levels.  We are now up to our sixth game of our Saturday Winter Sports Program and the excitement and energy is clearly visible.
Waverley College's Co-Curricular Directorate is using a free app again this winter for all football and rugby teams and their supporters. 'Team App' is a platform that will allow our football community to improve communication by integrating everything one needs to know about football at Waverley College including:
• News
• Fixtures
• Competition Ladders
• Selection News
• Player Profiles
• Live Scores
• Photos
So, if you would like to access this information on your device or smart phone simply download this free App. Team App is available on both Apple and Android devices. Once you have done this search for Waverley College Football or Rugby. The College will then authenticate you giving access.
Homework Club at the Junior School
A reminder that Homework Club is held in the Junior School library each Monday-Thursday from 3.00pm-4.30pm. It is the expectation that boys using this service are working or reading.
Armidale Rugby Tour 2019 – Expressions of Interest
All Year 5 boys had a Google Doc shared with them this week to list down their interest in the 2019 Armidale Rugby Tour. We are looking for 40 players to fill the positions listed. We will choose from both current YEAR 5 U10 & U11 Rugby Squads for the U12 Tournament in Armidale in 2019. U10 boys will need parent permission to play in an U12 Tournament. A detailed permission note will be coming home shortly. To be up for selection you must:
Have parent permission to be involved
Be playing rugby for a school team in 2018 and intend playing rugby in 2019
Be willing to play more than one position as specified on the shared document
BE AVAILABLE for the FIRST WEEKEND of the TERM 1 2019 School Holidays – Friday 12th, Saturday 13th & Sunday 14th APRIL
Selection is being carried out NOW by ALL COACHES as you play your 2018 season on both Saturday School Games and Wednesday Colour Competition. We select only 40 players so there is no guarantee that by having your name on the list you will make the squad.
We do this now as to leave the selection to 2019 would not allow interested parents to organise accommodation as this weekend is always University Graduation and Rugby Tournament in Armidale in the one weekend.
If there are any boys CURRENTLY playing rugby outside of school who would be interested we will let you have a trial at Colour Comp Rugby in WEEK 8 and 9. Please come prepared with boots and mouthguards. If selected then you would be expected to play rugby in 2019. Squad announcements will not take place until the end of the 2018 season.
Waverley Sport on Facebook
Please remember the details to get pictures on the Waverley Sport Facebook Page and Waverley Sport Messenger.
You can contact Lindsay through the Facebook Page; Facebook Messenger or at his website: lindsayjordan1122@hotmail.com :This email is best to use if you have many photos to share with him – Please let him know via Messenger if you have emailed him as he only uses this address for photos. If you have just small numbers of photos then attach them directly to Messenger Service with a message.
It would help if as many parents as can LIKE the page as Lindsay wants to put a lot more focus on the Junior School teams this year. He will also add any reports we send about games.
Thought for the Week
I've missed more than 9000 shots in my career. I've lost almost 300 games. 26 times, I've been trusted to take the game winning shot and missed. I've failed over and over and over again in my life. And that is why I succeed – Michael Jordan