From Acting Director of Junior School, Ms Gabrielle Bransby
This week marks our official week for Book Week. Our Learning Hub teacher, Mrs Zivanovic, has put a lot of effort into making it meaningful and special for our students – even with the current restrictions in place. It has been such an exciting week for the boys, especially for our award winners. 
Last week, I spoke about the introduction of our five new core values in the Junior School. The first core value that we focused on was 'Respect'. I saw and heard some great examples of students showing respect on the playground and in the classroom. Discussing the importance around this during wellbeing has been a positive experience. The second core value that we have been focusing on is 'Compassion.' 
Mr Mitton and 5 Gold have created some fantastic work around the concept of compassion. Boys brainstormed their thoughts and ideas on our new flexible furniture, coming up with many important messages. 
Learning Hub News – From Literacy & Innovation Teacher, Mrs Natasha Zivanovic
Book Week has been a little different this year, but the boys continue to show great resilience. They have effortlessly adapted to our COVID-safe provisions and enjoyed interactive Zoom sessions with our guest author Tim Harris and virtual performance, The Greatest Discovery.
The boys also enjoyed shopping at our pop-up bookshop, which was proudly supported by The Children's Bookshop & Speakers' Agency.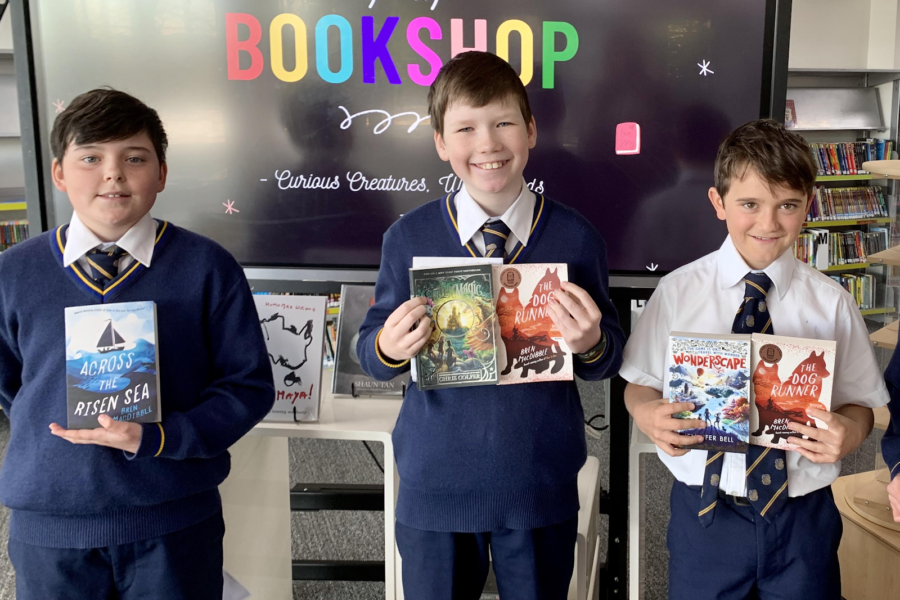 Book Week Prize Winners
Congratulations to our Book Week prize winners!
Outstanding Writing
Year 5
Mikey Gauci-Cook
Year 6
Tom Madden
Exceptional Creativity & Originality
Year 5
Darcy Dawson
Year 6
Johnny Yates
Most Expressive Curious Creature
Year 5
Carter Kennedy
Year 6
Connell Corcoran
Curious Creatures, Wild Minds – Top 10 Picks
Many factors contribute to promoting reading. As an educator, I intentionally tailor-make choices to suit the boys and aim to provide a variety of texts and genres the boys can choose from. This year the Book Week theme is 'Curious Creatures, Wild Minds'. Our Term 3 focus is to explore different texts to compliment the theme.
     

Yahoo Creek

     

What's Out There

     

A Hollow is a Home

     

The Illustrated Encyclopaedia of Ugly Animals

     

Searching for Cicadas

     

The Thing About Oliver

     

The Glimme

     

Catch a Falling Star

     

Australia's Amazing Dinosaurs

      Young Dark Emu
6 Gold's News – From Teacher, Miss Jennifer Hoare
iTime/STEM Projects
The 6 Gold boys have been very busy preparing to present their iTime/Stem Inquiry projects. Over the past few weeks, they have worked in small groups or individually to solve problems or create solutions based on their passions or interests. 
Angus Skeed set a very high standard for the class when he presented three spectacular Science experiments. His outstanding and dynamic presentation coincided with Science Week, which gave the class a great insight into solids, liquids and gases. Angus displayed excellent inquiry skills, impeccable organisation and tremendous enthusiasm while explaining his solutions. The highlight of his presentation was the magic he created by mixing milk, food colouring and dishwashing liquid.
"Milk is mainly made of water and the other big ingredient is usually fat. The dishwashing liquid bonds with the fat in the milk. This bond is so strong that the water and food colouring are pushed out. The swirling effect is everything else moving around to make room for the dishwashing liquid and fat to bond."