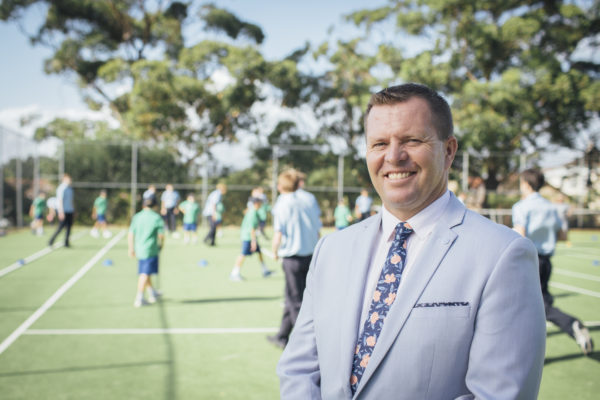 CAS Sport
Well done to all students and coaches on the first full round of summer co-curricular activities last weekend. We had some great performances in a number of activities.
Our 1st XI Cricket were successful in gaining first innings points against St Aloysius' in an excellent bowling and fielding performance, and can now hopefully quickly amass a challenging total for the second part of their two-day match this weekend. Our 1sts Touch Football side also had a comprehensive victory against Trinity, 9-4.
Sun Protection, Regular Hydration and Correct Attire
With some warming temperatures this coming weekend, it is really important all students are taking appropriate measures around sun protection and regular hydration. We still have a few students in the incorrect attire on weekends, and all students need to ensure they are properly attired for all fixtures.
NSW Football Squads Selection
I would also like to congratulate Jacob Rae (U14) and Sandy Zaverdinos (U15) on their recent selection in the NSW Football squads.
Correct Procedures for Absence or Leave
I would also like to remind all parents and carers of the correct procedures regarding absence or leave.
If a student is ill or injured and cannot participate in weekend activities, we require a medical certificate. This absence can be lodged through the Waverley College App parent portal.
If a student requires leave, leave requests must be emailed directly to me and not submitted through the App please.
CAS Codes of Conduct Reminder
I would also like to remind all members in the College community of the importance of the CAS codes of Conduct for players, parents, carers, coaches and spectators:
Players
Play by the rules and in a spirit of good sportsmanship.
Play for the "fun of it" and not just to please parents and coaches.
Control your temper. Verbal abuse of officials or other players, deliberately fouling or provoking an opponent, and throwing equipment, are not acceptable nor permitted in any sport.
Work hard, both for yourself and your team. Your team's performance will benefit, so will you.
Treat all players as you would like to be treated. Do not interfere with, bully or take unfair advantage of another player.
Co-operate with your coach, team mates and opponents. Without them, there would be no game.
In the event of a player, or athlete being sent-off during a CAS fixture, it is the responsibility of that boy's Headmaster at his discretion, to determine the penalty. It is generally understood among Headmasters, however, that the boy will serve at least one week's suspension from participating in the CAS competition.
Parents
Focus upon the boy's efforts and performance, rather than the overall outcome of the game. This assists the boy in setting realistic goals related to his ability, by reducing emphasis on winning.
Teach your son that an honest effort is as important as victory, so that the result of the game is accepted without undue disappointment.
Encourage your son to always play according to the rules of the game.
Never ridicule or yell at your son or another boy for making a mistake or losing a game.
Remember boys are involved in organised sports for their benefit and enjoyment, not yours.
Remember, children learn best from example. Applaud good play by both teams.
If you disagree with an official, raise the issue through the appropriate channels rather than question the official's judgement and honesty in public. Remember, most officials give their time and effort voluntarily, for your son's benefit.
Support all efforts to remove verbal and physical abuse from sporting activities.
Recognise the value and importance of coaches. They give their time and resources to provide recreational activities for your son and other boys, and deserve your support.
Spectators
We encourage boys to support their school teams and to be dressed in the school's uniform while doing so.
We expect barracking to be enthusiastic, but not to be fanatical or designed to heckle, belittle or disturb the opponents. For example, barracking, for or against, during a kick at goal is always bad sportsmanship. Boys should be encouraged to barrack for their school, rather than for an individual team member. Booing, whistling, playing or beating musical instruments are in bad taste and wholly unacceptable.
Vocal support for any team should never encourage violence or rough or illegal play.
Encroaching onto the field of play, the shouting out of suggestions for players, referees or umpires to hear, are not allowed.
It is never acceptable to express disapproval of a referee's or umpire's decision – no matter whether the referee be adult or schoolboy.
There is a complete ban on all alcoholic drinks at grounds where games between Associated Schools' teams are being played.
We expect our players to be modest in success and generous in defeat, not showing in either case undue emotion. Good play, by your own school and by the opposing school, should be applauded willingly and openly.
At all times, spectators should leave the area tidy and free of rubbish when they leave.
We look to adults (parents, carers, Old Boys and other spectators), to set an example by their self-control at matches.
Coaches
Students must perceive that the sporting program of the School is consistent with the educational aims of the School's Christian foundation. The part that coaches play in reinforcing this consistency, is in insisting on proper attitudes both on and off the field, and by making games attractive, safe and enjoyable for the students.
It is imperative that coaches have a clear understanding of the highest standards associated with amateur sportsmanship, and they must always be ready to combat those views widely expressed in the media that run counter to the spirit of the game.
Coaches should help students understand the fundamental philosophical differences between the games they play and professional games shown on television. The professional is an entertainer and a wage earner, whose play often reflects this fact.
Coaches should recognise that games are for enjoyment, and that satisfaction should come from participation in a team. Coaches should kindle in their players, on the one hand, a desire to win, which should motivate them towards excellence, and, on the other hand, a readiness to accept defeat.
Coaches should develop in their players respect for the ability of their opponents, as well as for the judgement of officials (ie umpires, referees and touch judges).
The home Coach/Manager should always welcome the visiting Coach, and encourage the Captain of the team to seek out the visiting Captain.
Coaches should be reasonable in their expectations of the players and in their demands on the players' time and energy. They should be sensitive to the age, skill and physical maturity of their players.
Coaches should carry out their educational responsibility by acquainting their players thoroughly with the rules of the game, as these provide structure and order. For this reason, Coaches should continually update their knowledge of the game.
Coaches should support and encourage players. Feedback should be focused on the skill area and no personal derogatory remarks should be made.
Where it is permitted under the rules of the game, all coaching from the sidelines must be restrained, tactful, and infrequent, and substantially out of earshot of spectators. In all cases however, the role of the Coach should be understated rather than overstated.
Coaches should warn those players who are losing their composure and becoming too physical, and if necessary, remove them from the playing arena should such warnings not be heeded.
Leadership and responsibility on the part of the captain should be encouraged. Coaches should refrain from running every detail or interjecting from the sidelines. (It is acknowledged that traditions and practices differ between, say, Basketball on the one hand and, on the other, Cricket and Rugby.)
All coaches (and particularly those who are not on the teaching staff), should ensure that they are fully aware of the expectations and practices of the school in which they are coaching. Coaches should remember that school sport plays an important role in a boy's education, and is for the benefit of boys rather than adults.
Coaches should not engage in excessive and ritual "psyching up" of a team.
If a match is lost, coaches should avoid giving the impression always that it could have been won if the team had played with more determination. (The opposition is sometimes just too skilful!) Similarly, coaches should avoid stating or giving the impression to players that bad refereeing decisions cost them the game.
Coaches should avoid any hint of criticising the umpiring or refereeing of a match – particularly in front of boys or parents.
A coach's aim should be always to coach in such a way that boys are able to learn for themselves.
Coaches are to accept player safety as an essential priority and correct techniques are to be insisted upon. Under no circumstances are matches to start or to continue under conditions which a coach considers contentious, eg the absence of an appropriate umpire or referee; or an unsafe playing surface.
Coaches must notify their Sports Convenor if any student from a team is sent off. The student(s) must be supervised by a school official after being dismissed from the field, and disciplined subsequently according to the custom and practice of the member school. It is the general rule that students will be suspended for at least one game or similar penalty, as outlined by the rules for individual sports.