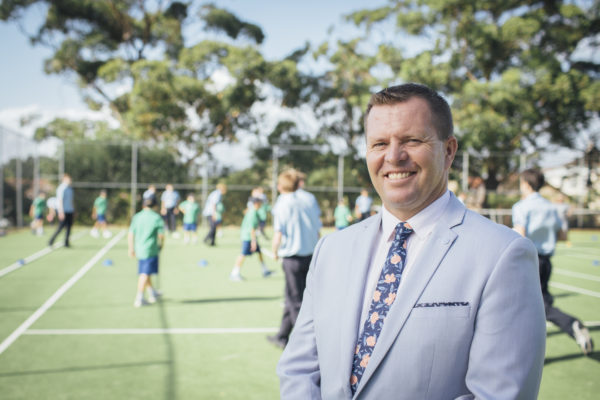 Click here to view the fixtures, training schedules and maps
Summer Activities Continue in Term 4
Despite some weather interruptions last weekend, we had another successful round of fixtures against Knox Grammar and St Aloysius' College. The 1sts and 2nds Basketball both had impressive wins on Friday night and one of the other highlights was Henry Walker's outstanding 132no against Knox for the 8As Cricket. Our 1sts Water Polo were desperately unlucky after leading for most of the match to lose on the siren, 9-10.
A big congratulations also to James Finegan and Daryus Sione who played for the Gen Blue U16s Academy against Queensland in the Rugby Australia final on Saturday. These boys were part of the successful winning side and James was also awarded the coach's award for the representative season. Well done also to Ehren Little who was part of the squad but is currently injured.
This Friday evening we are hosting Cranbrook in 1sts and 2nds Basketball. I want to remind any student attending that they have to be in full College Summer uniform and that high standards of behaviour are expected at all times.
From next week, Year 10 are on exams and home study. Year 10, however, are still required to meet their co-curricular requirements.
We have two more full rounds to go, including this weekend, and I know all of our students will finish their 2023 co-curricular activities strongly.
Waverley College Cricket Parents and Sons Match – You're Invited
The Waverley College Cricket Supporters' Club cordially invite you to the annual Parents and Sons match.
All ages, Years 5-12. Kids, come beat the old people!
Cool prizes!
When: Wednesday, 29 November 2023, Queens Park, from 4:15pm.
Click the button below to register.
Mr Steve O'Donnell
Director of Co-curricular
sodonnell@waverley.nsw.edu.au
---
Captains of Basketball Report From Our Three Student Reporters
1st V
Friday, 3 November 2023, the Waverley 1sts played their third CAS fixture against a very tough St Aloysius' outfit. Starting off the game, Waverley played very well and could not be stopped, gaining a 10-point lead and looking very slick with players like James Dyson Merwe getting a few early scores.
Coming out of the early second quarter, St Aloysius' went on a run, battling Waverley for dominance in the middle section of the game, however, Waverley was able to fight to a 15-point lead at one point.
Finally, coming into the fourth quarter, St Aloysius' had a lead of 12 points and Waverley knew they had to come up with some big shots with players like Aren Yaghoubian and Angus Peshos obliging. Waverley started to come back and tied the score 67-67 in the final few minutes, and then hit a clutch three to bring the lead to 70-67.
As St Aloysius' fought in the remaining minute, they just could not get any scores and Waverley walked away with a win, 71-67. Waverley's record now improves to one win and two losses, and they hope to improve on that against local rivals Cranbrook in a big Friday night game this week. 
2nd V
The Waverley 2nds had a great game against St Aloysius' and it was one of the most entertaining games so far this CAS season. The game started with players like Renato Rovacchi getting some early scores, and became a back-and-forth game from there onwards with an intimidating St Aloysius' crowd giving their boys energy to help them to try and win the game.
In the remaining moments of the game, Waverley was losing, but Jock Edwards hit a big three to cut the lead to two, followed up by a steal, a layup, and sinking the free throw to put them up by one. Waverley went on to win the game in the dying moments. The 2nds record improves to two wins and one loss.
10As
The Waverley 10As played a very good game against St Aloys, playing hard from the first possession and being led by great interior finishing from Francesco Scarpa. The 10As were very able to keep applying the pressure throughout the game from great scoring by Ratu-Gosho Vishanin. Nico Palacio's lockdown defence was crucial in denying key St Aloysius' players from scoring throughout the game. Because of a great team effort, Waverley got the win 61-21 and their record improved to 3-0.
9As
The 9As played a great game against St Aloysius' with the game going back and forth with numerous lead changes and all players playing very well, especially Hayden McAusland. Unfortunately, St Aloysius' was able to pull away, winning 30-23.
8As
The Waverley 8As played an amazing game against St Aloysius' as both teams played hard throughout the whole game, with neither team wanting to lose. Unfortunately in the second half, St Aloysius' was able to pull away, winning 49-36. A great performance by Darcy Kidd and Charlie Gibbins helped them stay in the game and be competitive.
Congratulations to all our teams, with each of them putting all their effort into their games. Good luck to all teams as they head off into the fourth round of the season.
Flynn Busteed (Captain of Basketball)
Sergej Jakovljevic and James Dyson-Merwe (Co-captains of 1st V)
Mr Anthony Gibbs
Convenor of Basketball
agibbs@waverley.nsw.edu.au
---
Final Expressions Of Interest – New Zealand Cricket Tour EOI 2024/25
Dear Parents, Carers and Students
We are pleased to announce that we are seeking expressions of interest for a proposed New Zealand Cricket tour which will take place at the conclusion of school in Term 4 2024 and will then go into the first week of the December holidays.

Please note the following:
The cost per student is estimated at $5,500 (subject to change) which covers all transport, accommodation, travel insurance, some meals, as well as staffing costs

We are looking to take 24 boys and four staff 

Priority will be given to senior students who will be playing in the 2024/2025 cricket season 

Preference will be given to students who are consistent in maintaining positive interactions with members of the College community as well as following the College rules 

As with all tours and excursions, College student fees need to be up to date with the Finance department before anyone can tour

Parents may decide to make their own travel arrangements to watch their son play, but students must stay with the tour group at all times

Tour attendance does not determine selection of the 1st XI or any A level team

Please find attached the proposed draft itinerary (dates are subject to change depending on staff availability and the College calendar)

An expression of interest does not guarantee a spot
Deposit must be paid by Friday, 17 November 2023
Once payment has been made please email Mr Sean Picone at spicone@waverley.nsw.edu.au to confirm your interest.  
Deposit 
The College requires a $1,000 deposit to guarantee your son a spot. This deposit will be followed by three equal instalments. The total amounts of each instalment will be confirmed once a final cost of the tour is determined.
The tour payment schedule will be as follows:
– $1000 deposit by Wednesday, 17 November 2023
– Equal payment by Friday, 15 March 2024
– Equal payment by Friday, 14 June 2024
– Final balancing payment by Friday, 13 September 2024.
Payment of deposit can be made via the following:
Please only use EFT as BPAY will go onto school fees instead and make sure to include your son's full name in the transfer.
Waverley College 
BSB: 062 124
ACCOUNT: 00903139
All tourists must have a valid passport. The College will share more information on this, once the tour group has been finalised.
Please note that this is a self-funded tour and will not be subsidised by the College.
This tour is a wonderful opportunity for those selected and students are encouraged to potentially seek casual work over the holiday periods to pay for the tour.
Thank you and kind regards,
Mr Sean Picone
Waverley College Cricket v St Aloysius' – 4 November 2023
A rain-affected weekend saw only a few teams take part in some play.
Our 1st XI are in a decent position at 4/156 after 62 overs at stumps on Day 1. Captain, Hunter Eldridge, demonstrated his maturity with an impressive 63, while Will Livissianis remained unbeaten on 40.
In the 8As, Henry Walker followed up last week's 83 against Knox to pile on an incredible 138 from only 93 balls. Well done Henry, a first of many Waverley hundreds. We look forward to drier weather for Day 2 this coming Saturday.
In the 10As, Aidan Herlihy took 5 for 28 off 15 balls.
Mr Sean Picone
Convenor of Cricket
spicone@waverley.nsw.edu.au