FROM THE ACTING DIRECTOR OF THE JUNIOR SCHOOL, GREG HARRIS
Prayer of the Week
FEAST of the HOLY TRINITY
Sunday 27th May we celebrated the Feast of the Holy Trinity, which is the first Sunday after Pentecost. It celebrates the most Holy Trinity, one God in three persons.  We acknowledge our faith in this every time we begin a prayer.  This is the foundation of our faith as Christians.  We look at the Holy Trinity like that of the clover, each petal represents one part of the whole.
Let us Pray

In the name of the Father, we live by your words. 
In the name of the Son, we live by your example.
In the name of the Holy Spirit, we live with your guidance.
To the one God, Father, Son, and Holy Spirit
that our lives may bear witness to our faith.
Father, 
you sent your Word
to bring us truth
and your Spirit to make us holy.
Through them we come to know
the mystery of your life.
Help us to worship you,
one God in three Persons,
by proclaiming and living our faith in you.
We ask you this, Father, Son, and Holy Spirit,
one God, true and living, for ever and ever.
Amen.
St Mary of the Cross: Pray for Us
Blessed Edmund Rice: Pray for Us
Live Jesus in our Hearts: Forever
Thanks for Your Words and Actions
It has been two weeks since I announced my health status to the community and the outpouring of support, thoughts and prayers being offered and sent through has brought me to this point of needing to write a heartfelt word of thanks. I have been literally moved to tears by some of the things that have been said and done for me over the past two weeks.
My chemo has begun, and despite already some days that it is best I am not a school, all has not been nearly as daunting as I was first lead to believe. However, I am under no illusions that the journey will get tougher, despite many guarantees that there is a lot they can do with this cancer these days, there are some significantly difficult parts to the journey to come. I know it is still many months to go to work through the full process and there will be some much longer periods of absence from you all that will be expected. I know my health is in good hands and I will do my best with what I can control.
Apart from my gratitude for the many emails, cards and words of care and concern shown from families, parents, staff and boys, the card and gift that was delivered to my office by Jade Stapleton on Tuesday literally blew me away. I have never in my teaching career, starting way back in 1980 when I walked through the gates of Teachers College in Strathfield, received a more generous and loving gift from a community I have worked in. The card alone with its words of encouragement and support from hundreds of people in our community brought tears to my eyes. I was speechless, to say the least, but have found the words now to thank you all for such amazing love, support and generosity. This will help release some of the pressures being faced by my family at this time, especially by my beautiful wife, Lisa, who in many ways has to wear the brunt of this disease as my carer; my rock and my encouragement on my low days, knowing full well this is her safety net to be strong when I am struggling to be so, yet knowing full well it is not all good days for her also.
I can't thank you enough and will continue to do what I can for the school whether here or at home. Waverley College has been my second home; a caring community and a place that has given me a sense of worth. If I didn't know or appreciate this enough before, I certainly know it now. Thank you! God bless you all.
Thank You Mr Gill – Assistant Director of Mission
This week marks the end of Mr Gill's 5-week stint as the Assistant Director of Mission in the Junior School. This is the first time Mr Gill has filled in in this position and he has done a great job over a very busy few weeks. From May Procession, Mother's Day Mass and participating in and overseeing the Parish Confirmation Program, Mr Gill has managed a very demanding schedule and done so magnificently. He has shown a real enthusiasm for the role and spent many hours organising and co-ordinating these events. He has managed to negotiate all the challenges and has left everything in great shape for Mr Ghattas to take over once again next week on his return from his combined paternity and long service leave.
Conversations with Boys
One of my favourite parts of my week is the Tuesday and Thursday Help Sessions run in the Art Room. It just gives boys a chance to willingly come and work on tasks they may need help on; ask for help; get shown how to do things on their laptops; work with friends who will happily show them how to do things; some come just to chill out and work on some approved websites with their friends. The room is full of happy boys doing their work, helping others and sharing pleasant conversation. Many leave feeling they have released a burden; problem solved and heads held high.
I get to share in some of the conversations in the room and it was lovely to have a boy comment to me how glad he was to have his dad home. I enquired as to what he meant by this. He then explained his dad was a journalist and had just returned from Afghanistan after working on a number of stories. He told me how his dad had been circling Kabul in a Black Hawk Helicopter and a few other interesting titbits.
It made me think about what our boys' mums and dads were up to whilst their sons are in our care. How hard you all work out there to offer the boys the experience to come to Waverley. How nice was it to share this boy's story and the simple love and appreciation he showed having his dad back home again.
A big thanks to all of our mums and dads for all you do each day for your children to give them the love and care they deserve and special experiences in life.
NSW CIS AFL State Champions
We were lucky enough to have two of our AFL boys, Nate Smith and Henry Kidd, take part in the PSSA State Carnival in Bateman's Bay last week. After three days and five hard fought games CIS made it into the Grand Final. Here they then became the 2018 NSWPSSA AFL Champions by winning a thrilling final over Sydney North. That is a notable effort, but the story of how they got there is even better as, they were far from sure things early in the competition.
The carnival began with great weather and a beautiful day for some footy! 286 students from 13 different School Sport Associations from across NSW participated for the three days from Tuesday 22nd until Thursday 24th May. Early on the CIS team must have thought they would struggle from third place in their pool after one win from their first three games, but as one of two best third place finishers they drew a Quarter Final Play-off against Sydney West who were a pool first place winner. This they won and headed to a Semi Final against an old foe, Sydney East, who had already beaten them on day one. From here they won every game and claimed the title by defeating the, up to then, undefeated Sydney North Team – what an effort! CIS had two boys then selected into the PSSA State team from two of our other NSW CIS schools.
NSW CIS Results
Round 1: CIS 2.7.19 def Mackillop 1.4.10
Round 2: CIS 4.5.29 def by Sydney East 8.4.52
Round 3: CIS 4.1.25 def by Riverina 4.6.30
Round 4: CIS 4.1.25 def Sydney West 2.4.16
Semi Final B: CIS 4.4.28 def Sydney East 2.2.14
GRAND FINAL: CIS 4.1.25 def Sydney North 2.4.16
This was Sydney North's first loss in the tournament and a very proud NSW CIS team, with its two Waverley Representatives held up the cup – CIS wins the Bob Bevan Trophy.
Thank you to South Coast School Sports Association for the organising of the carnival together with Team Management, State Personnel, Umpires, parents and spectators who supported the event.
Transport Good News
It is always lovely when a member of the public makes contact with us about the small things that can make their day. We are very grateful for moments when beautiful words like this come in on email. This was sent from a man who works for a law firm:
I am not sure if you are the correct person to whom I should pass this information however I wanted to compliment a Waverley College student.
Earlier this week, a number of adults were waiting for an early morning bus in Rockdale.  A young student dressed in the Waverly College uniform (and with the school branded backpack) had clearly been waiting the longest/was first in line.  As the bus pulled up, he politely deferred entry to all of the adults so that we could board first. 
The name tag on his backpack seemed to read 'Jett Lenzo'.  Rare and lovely to see such polite behaviour from a young student; Jett is a credit to your school. 
Regards (Name withheld)
Beanies for Brain Cancer – Digger Callander
What a Morning – A World Record attempt for 'Most Beanies on a Beach' – Great involvement from JS Boys and Staff – Over $3,000 raised by the Junior School – $15,000 school wide – And wonderful support for one of our own and his family and a GREAT CAUSE. Oh, and yes that record attempt was successful – 3,629 people wearing beanies on the beach which easily surpassed the existing record. Over 300 Waverley boys from Year 5-12 were recorded in that number. Great job one and all. A real feel-good moment.
Australia's Biggest Morning Tea
We are very lucky at Waverley to have some wonderful people who involve themselves in all sorts of charity work to support greater causes. Last week Sherri Falkinder, from the High School Library, coordinated the Australia's Biggest Morning Tea in the school and made sure we got our own Junior School version. Sherri did a great job rallying all for one last fundraising effort for the week after already a big week of fundraising for the Mark Hughes Foundation – Beanies for Brain Cancer. With donations as well as the boys 'spare change' $1376.75 was raised for the Cancer Council.
Thank you, Sherri, for making it possible for the Junior School to be part of Australia's Biggest Morning Tea.
We appreciate all you did to make our recess so enjoyable as well as providing us with the opportunity to support this great cause. Congratulations on your wonderful efforts across the College.
Wigs for Cancer – Akiva Loye-Blinkhorn
We are very lucky to have such a motivated student body when it comes to doing for others. Last week we had a very public show of support for charity – and that was great for our community and all involved, but some choose to go about their charity work quietly without drawing much attention to themselves.
Last year at Year 5 orientation we all met Akiva Loye-Blinkhorn, now in 5 Green and his long hair. Akiva, with the encouragement of his family, was growing his hair to donate it for a cancer wig. Akiva's goal was to grow his hair to 35cm and this took him nearly three years to do so. At the end of Term 1 2018 he achieved his goal. He has not sort publicity or a fuss. In fact I have had to chase the story out of him, but I just love this story and had to share it.
A Canberra Tale – Jett O'Halloran
It was great to have the staff and boys back safely from Canberra after another successful mission to our countries' capital. I especially would like to thank the staff for putting so much effort into the week for the boys and their willingness to give up so much of their precious family time to make it happen.
Special mention must go to Mr Meadley, who is already back and preparing the 2019 trip. He works tirelessly to make sure this is not just an educational experience, but one where boys have plenty of wonderful memories and some fun along the way. This is achieved through the two-night activities of Laser Zone and Ten Pin Bowling, but sometimes the opportunity for a great moment and memory comes from others. Here is what happened to Jett O'Halloran; the boys' in his bus group and some unsuspecting visiting schools in the hospitality area of Parliament House. Jett's parents have given permission for the story to be shared: 
How my Grandfather Tricked Me
As part of our Year 6 trip we all went to Parliament House where my grandfather works for the federal police. When we were about to go into the school hospitality area for a snack, my grandfather walked up to me and gave me a black handbag, which he told me was a birthday present for my mum. I thought this was a bit strange because mum's birthday was a little while ago. The Waverley boys were enjoying their afternoon tea along with two other schools when my grandfather, two police officers and a police dog came into the hospitality area.  All the students were asked to put their bags on the ground and stand against the walls as the dog was going to do a search. The golden Labrador started sniffing the children from the other schools and their bags and slowly he made his way around to the Waverley boys.  When the dog got to me, he walked right passed but then he came back and sat down right in front of me. When the dog sits down like that, it means the dog has smelt something. The police officer threw a toy for the dog which was a wrapped-up towel to reward him for finding it. But it wasn't over for me! The police officer told me to go to the corner of the room and my class thought I was going to be in big trouble. Then I saw my grandfather filming all of it and I realised I had been pranked! Afterwards everyone got to play with the dog and throw the toy for him.
NB: No one was hurt in this incident and the police had advised the other school staff of the prank. It did catch a few of our boys off guard, but staff were on the lookout for anyone who got startled by the moment. All was taken in good fun and yet another Canberra memory was filed in the vault.
Mr Meadley gets the final word on Canberra here and it is always nice to hear how the boys are appreciated in the community when we take them on trips like this:
In regards to our Waverley boys, I received nothing but compliments through the trip. Questacon made a point of pulling me aside (front desk) and making it clear our boys were 'outstanding'. Gold Creek Tourist Resort owner and manager (Steve) thoroughly looks forward to hosting our Waverley boys. Murrays coach drivers give Waverley glowing praise to the extent of requesting me to book them as the drivers for the following years. The evening venues (Laser Zone and Tenpin) also noted how appreciative they were of our boys' behaviour. 
Confirmation Mass – St Mary's Cathedral – Joseph Vonwiller Congratulated
Last Sunday children from parishes right across Sydney attended a special Confirmation Mass at St Mary's Cathedral. We had a large number of boys involved. One of the organisers sent us this lovely email about our Year 6 Student Joseph Vonwiller:
Just letting you know that Joseph Vonwiller gave the thank you speech to Archbishop Fisher and the bishops at Confirmation yesterday. He read clearly, was word perfect and he was confident especially as he was reading in front of over 1200 people. He was very impressive, receiving spontaneous applause from everyone.
Kind Regards
Anne-Marie Snelling
Sacramental Coordinator St Brigid's Coogee
Confirmation – Charles Borromeo Parish – Mary Immaculate Church
The next Confirmation lesson will be on Friday 1st of June from 7:30am to 8:15am in the 6 Blue Classroom with Mr Gill in Week 5 – Mr Ghattas will take over on his return in Week 6 (Thursday) 7:30am to 8:15am and Week 7 (Friday) in the 5 Blue Classroom.
Jett Lenzo – Australian National Judo Championships
It's not often a boy gets two special mentions in the one Newsletter but we would all like to wish Jett Lenzo all the very best of luck as he heads to Queensland over the long weekend. Jett will be representing NSW at the Australian National Judo Championships on Saturday 9th June on the Gold Coast. Jett will be contesting the Junior Boys U/46kg weight division. We wish you every success for the challenge ahead.
CBCA Eastern Suburbs Sub-Branch – Wed 20th June
This flyer is from Mrs Tunks, who is on this committee, for the launch night for the Children's Book Council of Australia Eastern Suburbs Sub-Branch. There will be children's authors speaking so it may be of interest for some parents. This night is for adults (it isn't a children's event).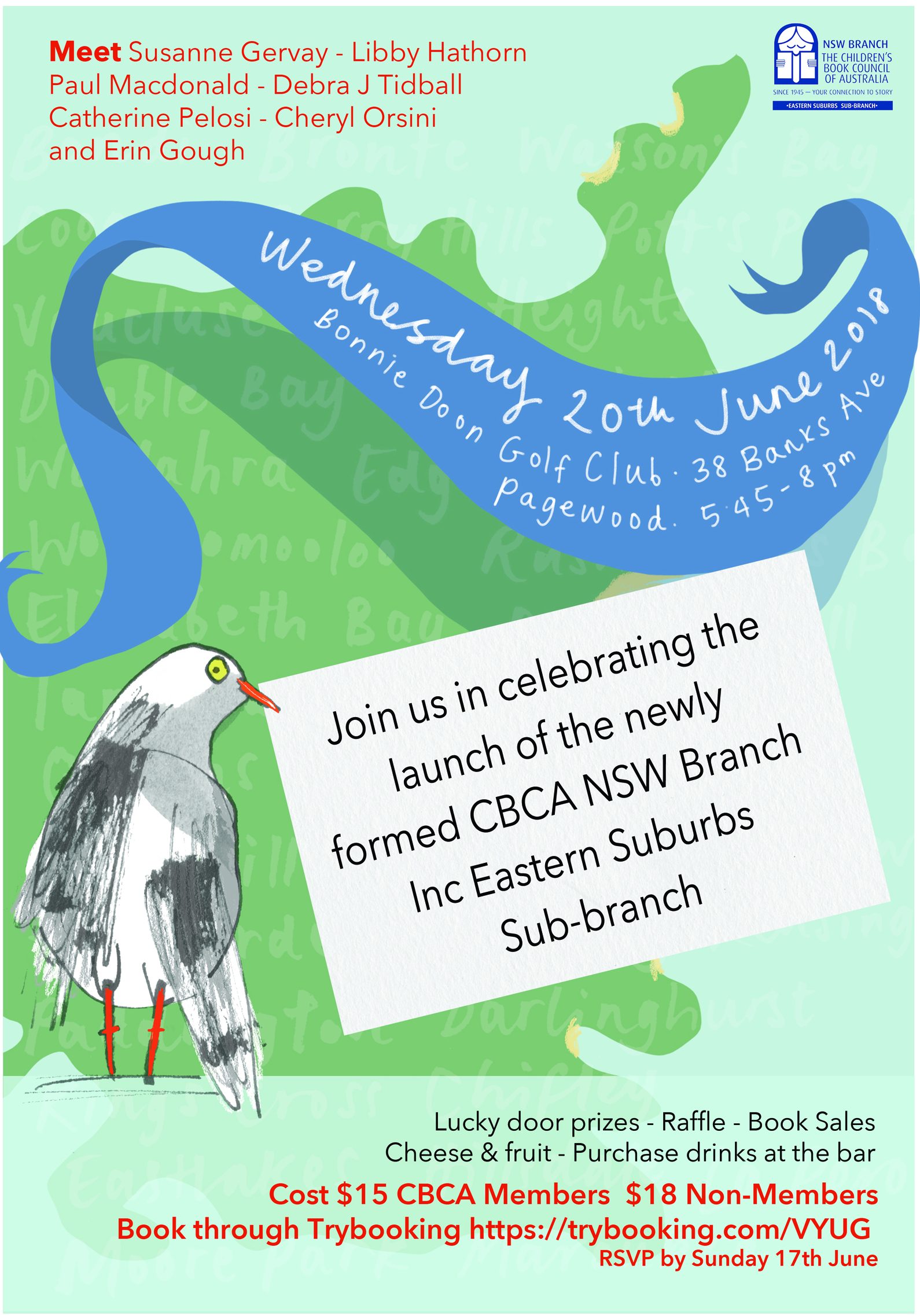 Music Showcase
Thank you to Mrs Rollins, Mr Williams, Mrs Pinter and all the music staff for all the work with the boys for the Music Showcase. An event on much earlier in the year than normal and running into Canberra week for the Junior School was problematic when it came to getting time for rehearsals and all in the one room at the one time. Despite all this, the show went on and was a great success and the boys did well from what I am lead to believe. We don't know how Mrs Rollins does it. I am very thankful to staff for releasing students when possible to squeeze in the all-important practices to make it all a success. Special mention to Tracie Ryan and Jenny Hoare who went along to help organise the boys and support the Music Staff in their efforts on the night.
National Simultaneous Storytelling
A number of our Year 6 boys participated in the National Simultaneous Storytelling in the High School Library recently. It was great for them to share some time with our Preschool students. Many thanks to Nate Smith, Lachlan Miranda, Zachary Duane, Cormac Morris and Sonny Mori for being involved.
The Great Book Swap – THIS WEEK
ONE DAY TO GO: The Great Book Swap is on tomorrow, Friday 1st of June. This is a new event for the Junior School and will run at lunch time. The idea is boys bring an old much-loved book from home and swap it for another one for the donation of a gold coin. Lacey House will also be running a cake stall on the day, so please bring your money with you. The money will also go towards the Indigenous Literacy Program.
The Great Book Swap is a fantastic way to celebrate reading in our local community and raise much-needed funds for remote Indigenous communities. The idea is to swap a favourite book in exchange for another, for a gold coin donation. Last year, the Indigenous Literacy Foundation raised over $190,000 from the Great Book Swap and this year their goal is to raise $300,000 to gift 30,000 new books to remote communities who have few to none. After all, how can you learn to read without books?
Please also feel free to support the event by donating any good quality books you may have at home (The cut off for books to arrive at school was today Thursday 31st May – please deliver them to the Library where they will have a slip with your details inserted – We still can take a few late entries).
Homework Club – New Booking Procedure – System Review
We are aware of a problem with the booking system and it is being looked at. In the meantime, please book through Mrs Coupe who will prepare a list of boys for attendance.
Homework Club will continue in the Junior School Library in Term Two, with a minor change. Hours of operation are Monday, Tuesday and Thursday, but not Wednesday due to the fact that all boys will be involved in Sports Training on each Wednesday throughout the term. Parents are asked to strictly adhere to the 4.30pm pick up time. The expectation of the boys attending the Homework Club is that they study quietly on work required to be completed for school. There will be a teacher on duty each day.
Winter Training goes until Week 3 of Term 3. At this point Homework Club will run again from Monday to Thursday inclusive.
Chess
Learn to be a chess champion! Coaching for students at Waverley College (Junior School) is held on Tuesdays from 12:30pm to 1:30pm.
Learning and playing chess helps children develop their logical thinking and problem-solving skills, improves their concentration and focus, while also being a great source of enjoyment. Activities include group lessons on a demonstration chess board or interactive whiteboard, puzzle solving and fun practice games.
Students earn merit awards by making checkmates, or by displaying skills and positive qualities, which all good chess players strive to develop.
If your child is interested in taking part, you can collect an enrolment form from the school office, or email enrol@sydneyacademyofchess.com.au for a copy. For all enquiries, please contact Sydney Academy of Chess on (02) 9745 1170.
Touch Football Representatives – Unsuccessful
The boys thoroughly enjoyed the opportunity offered to them to be involved in the trials for the 2018 NSW CIS Touch Team. Unfortunately, none were successful, but we congratulate Monty Armstrong, Thomas McKenna and Ethan Ginnane for trying out.
NSW CIS Rugby Trials
The second stage of the NSW CIS Rugby trial selections were held this week. Five Waverley boys were selected for the IPSHA squad several weeks ago to attend. James Nestor, Christian Robbins, Aston Owens and Ethan Ginnane competed over two days of trials on Tuesday and Wednesday of this week. Two boys, Christian and James were invited back to the second trial on Wednesday. Unfortunately neither boy made it to the final NSW CIS Squad, but these were very noteworthy efforts to get that close to a squad that were last year's State Champions
It was unfortunate that our fifth selected player Eden Byrd had to pull out of the trials as he has recently been diagnosed with a stress fracture in his heel. It is not the best of timing for poor Eden who, up to now, was having a stellar year on the sport's fields of his school this year. We wish Eden a speedy recovery.
Armidale Rugby Tour 2019 – Expressions of Interest
 All Year 5 boys had a Google Doc shared with them this week to list down their interest in the 2019 Armidale Rugby Tour. We are looking for 40 players to fill the positions listed. We will choose from both current Year 5, U10 & U11 Rugby Squads for the U12 Tournament in Armidale in 2019. U10 boys will need parent permission to play in an U12 Tournament. A detailed permission note will be coming home shortly. To be up for selection you must:
Have parent permission to be involved
Be playing rugby for a school team in 2018 and intend playing rugby in 2019
Be willing to play more than one position as specified on the shared document
Be available for the first weekend of the Term 1 2019 School Holidays – Friday 12th, Saturday 13th & Sunday 14th April
Selection is being carried out now by all coaches as you play your 2018 season on both Saturday School Games and Wednesday Colour Competition. We select only 40 players so there is no guarantee that by having your name on the list you will make the squad.
We do this now as to leave the selection to 2019 would not allow interested parents to organise accommodation as this weekend is always University Graduation and Rugby Tournament in Armidale in the one weekend.
If there are any boys currently playing rugby outside of school who would be interested we will let you have a trial at Colour Comp Rugby in the coming weeks – to be advised. If selected then you would be expected to play rugby in 2019. Squad announcements will not take place until the end of the 2018 season.
Team App for Winter Sport
Sport at Waverley College is an exciting activity that involves every student at all different levels.  We are now up to our third game of our Saturday Winter Sports Program and the excitement and energy is clearly visible.
Waverley College's Co-Curricular Directorate is using a free app again this winter for all football and rugby teams and their supporters. 'Team App' is a platform that will allow our football community to improve communication by integrating everything one needs to know about football at Waverley College including:
• News
• Fixtures
• Competition Ladders
• Selection News
• Player Profiles
• Live Scores
• Photos
So if you would like to access this information on your device or smart phone simply download this free App. Team App is available on both Apple and Android devices. Once you have done this search for Waverley College Football or Rugby. The College will then authenticate you giving access.
Homework Club at the Junior School
A reminder that Homework Club is held in the Junior School library each Monday-Thursday from 3.00pm-4.30pm. It is the expectation that boys using this service are working or reading.
Waverley Sport on Facebook 
Please remember the details to get pictures on the Waverley Sport Facebook Page and Waverley Sport Messenger.
You can contact Lindsay through the Facebook Page; Facebook Messenger or at his website: lindsayjordan1122@hotmail.com :This email is best to use if you have many photos to share with him – Please let him know via Messenger if you have emailed him as he only uses this address for photos. If you have just small numbers of photos then attach them directly to Messenger Service with a message.
It would help if as many parents as can LIKE the page as Lindsay wants to put a lot more focus on the Junior School teams this year. He will also add any reports we send about games.
Code of Conduct
Our Saturday Sports Program is a competitive and extremely well run under the umbrella of IPSHA . We have and always will take pride in the way that our students participate and behave both on and off the field. We do not apologise for expecting high standards of students. We stress continually the need to accept the referee's decisions and to value sportsmanship.
Very simply we ask all involved to show respect to your opponents and the officials. Remember without them there would be no game.
I've included below the Code of Behaviour that we follow at the Junior School. It would be appreciated if you could take the time to read through it with your son before the next Saturday game.
Codes of Behaviour for School Sport – (Based on IPSHA Aims and Principles of Junior School Sport and Aussie Sport)
The role of the host school / convenor is to be clearly defined (i.e. responsibilities re provision of umpires, referees, sportsmanship, barracking, courtesy etc.) Host School (i.e. staff, children and parents) should welcome visitors to the school grounds.
Coaches' Code of Behaviour
Basic skills should be taught to all team members. Children should be encouraged to play hard and win fairly.
Teach your players that rules of the sport are mutual agreements, which no one should evade or break.
Children should participate for fun and enjoyment and winning is only part of their motivation. Never ridicule or yell at the children for making mistakes or losing a competition
Coaching during games should not interfere with the control by the referee or umpire, nor should it be offensive to opponents.
Ensure that equipment and facilities meet safety standards and are appropriate to the age and ability of the players.
Develop team respect for the ability of the opponents as well as for the judgment of officials and opposing coaches.
Make a personal commitment to keep yourself informed of sound coaching principles and the principles of growth and development of children.
Make it positive experience for the children.
Players' Code of Behaviour
Play by the rules.
Never argue with an official.
Control your temper. Verbal abuse of officials or other players, deliberately distracting or provoking an opponent is not permitted in any sport.
Work equally hard for yourself and/or for your team. Your team will benefit, so will you.
Be a good sport. Applaud all good plays, whether they are by your team, opponent or the other team.
Display modesty in victory and graciousness in defeat.
Treat all players as you would like to be treated. Do not interfere with, bully or take unfair advantage of another player.
Co-operate with your coach, teammates and opponents. Without them there would be no competition.
Place in proper perspective the isolated incidents of unsporting behaviour rather than make such incidents the 'highlight' of the event.
If a player is sent off during the game, a one-week suspension is recommended.
Thank the opposition and officials at the end of a game.
Spectators' Code of Behaviour
Children play organised sports for fun. They are not playing for the entertainment of spectators only, nor are they miniature professionals.
Applaud good performances and efforts from each team. Congratulate all participants upon their performance regardless of the game's outcome.
Respect the officials' decisions.
Never ridicule or scold a child for making a mistake during a competition.
Positive comments are motivational and encourage continued effort.
Condemn the use of violence in any form, be it by spectators, coaches, officials or players.
Show respect for your team's opponents. Without them there would be no game.
Encourage players to follow the rules and the officials' decisions.
Demonstrate appropriate social behaviour by not using foul language, harassing players, coaches or officials.
Comments should not interfere with the running of the game.
Focus on the efforts and performance of the children rather than the result.
Praise
Praise is encouraged at all levels
Complaints concerning the conduct of games should not be made during or after the game. They should be referred to one's Head of Junior School and any action should be left to his/her discretion.
UNDER NO CIRCUMSTANCES should parents contact schools directly.