Diary Dates
Please find below key event dates you need to be aware of for the Junior School in Term 3. For all of the College events, please refer to the College calendar. 
August
Saturday, 6 August – Final Round Winter Sport

Thursday, 11 August – Wakakirri (selected students)

Friday, 12 August – Year 6 Retreat Day – Sports Uniform

Wednesday, 17 August – Junior School Athletics Carnival – Queens Park – Sports Uniform

Thursday, 18 August – Sami Bayly author and illustrator presentation 

Friday, 19 August – Year 5 Retreat Day – Sports Uniform 

Monday, 22 August – Book Week – Pop Up Bookshop – 9am – 12:30pm

Tuesday, 23 August – Year 5 Writing Workshop – Academic Uniform

Wednesday, 24 August – Year 5 Leadership Day – Sports Uniform 

Wednesday,  24 August – Year 6 Writing Workshop – Academic Uniform 

Friday, 26 August – Junior School Fun Run – Waverley Park – White T-Shirt and Sports Shorts
September
Friday, 2 September – Father's Day Mass and BBQ Lunch – Mary Immaculate Church, 12pm

Monday, 19 September – Year 6 Allwell Testing – Academic Uniform 

Friday, 23 September – Term 3 Classes Conclude
Primary school is not always about the academic results your son achieves but also the social experiences he creates. I always love visiting one of our spaces in the Junior School, The Learning Hub.
I enjoy seeing the students interact with each other, whether it be playing games, participating in Drawing Club, the lego creations, reading and discussing books or simply hanging out and chatting with friends. As the Director of Junior School, it is rewarding seeing students being inclusive and developing friendships.
Ms Gabrielle Smith
Director of the Junior School
E: gsmith@waverley.nsw.edu.au
---
Father's Day Mass – Friday, 2 September 2022 – Mary Immaculate Church
The celebration of fathers, grandfathers and significant others in the lives of our Waverley College Students will be celebrated on Friday, 2 September at 12pm (Week 7, Term 3). This will be at Mary Immaculate Church followed by lunch at the Junior School.  
Part of the celebration will include a slideshow. Can I please ask that you send through a photo of your son(s) with their fathers/grandfathers if you would like a photo included in this presentation.
Please send through all photos to liturgy@waverley.nsw.edu.au
Mr Steve Ghattas
Assistant Director of Student Formation
E: sghattas@waverley.nsw.edu.au
---
Curriculum News
Welcome back to Term 3. I hope everyone had a wonderful break despite the weather. You would have received your son's Semester 1 report at the end of last term. Sitting down as a family and reflecting on all the achievements and areas for improvement is so important for your son's growth.
It is now a great opportunity to set SMART goals with your son after reflecting on the Semester One report. Moving into Semester 2, they have the opportunity to reach further and achieve more in their learning. 
Below is the Curriculum Overview for Term 3 so you can see what your son will be learning in the classroom. It is clearly set out so that you can see the subject and the topics being taught across the curriculum. 
>>> Click here to view the 2022 Year 5 Term 3 Curriculum Overview.
>>> Click here to view the 2022 Year 6 Term 3 Curriculum Overview.
Ms Gabrielle Bransby
Assistant Director of Junior School/Curriculum
E: gbransby@waverley.nsw.edu.au
---
Debating
Topic: That Graffiti Should be Legal
Last week, the debaters had tough competition and a tough topic. Both Waverley teams put forward strong arguments and presented their cases clearly and firmly, rebutting the Cranbrook team's cases. The boys did themselves and Waverley very proud. One win and one loss. 
A huge thank you to Gráinne Rigby and Tina Brodie for transporting the teams to their away debates.
Home Learning Club – Week 3 
>>> Click here to register your son.
Should your son be unable to attend, please email the College at: nzivanovic@waverley.nsw.edu.au
Ms Natasha Zivanovic
Literacy and Innovation Teacher
E: nzivanovic@waverley.nsw.edu.au
---
Wakakirri 2022
With a performance date less than three weeks away, the Junior School Wakakirri cast are turning up the heat. Our item this year is Oliver! but instead of simply presenting the classic tale from Charles Dickens, our junior boys are performing a very modern re-telling of the story.
Our Oliver does indeed get more – more devices, more screen time, more games and more wins. In fact, he gets so immersed in his digital world that he pushes away all of his friends. He soon finds that he is in a very lonely place and some of the characters he meets there are very nasty. Eventually he finds a way to leave his digital world and rebuild his lost friendships.
In Wakakirri, the boys have seven minutes on stage to present a story that has a positive impact on the world. I am very confident that our cast does just that. Our soundtrack includes music from Imagine Dragons, Queen and Robbie Williams along with some original tracks from online gaming.
This year we are also projecting digital scenery as part of our performance which fits in really well with our theme. Our performance is at NIDA on Thursday, 11 August and I wish all the boys involved a wonderful experience on stage.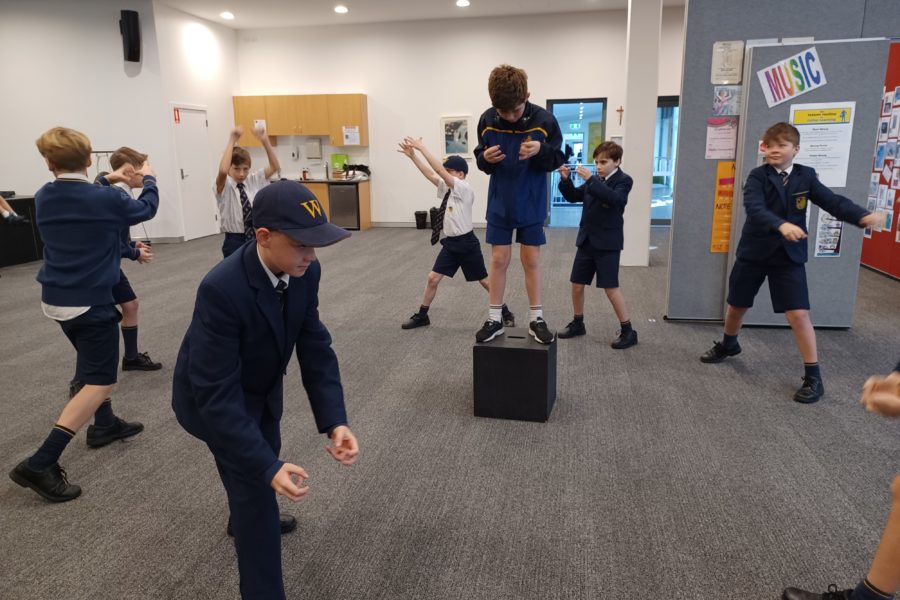 Ms Michelle Rollins
Music / Drama Teacher
E: mrollins@waverley.nsw.edu.au
---
Co-Curricular Sport
It was disappointing to have all games cancelled (except one) over the weekend, but we're looking forward to clear weather for Round 9 and the recommencement of the winter season sport. 
I would like to applaud and acknowledge the 10As Rugby team. They were the only team who played last Saturday at Terrey Hills, and it happened to be horrible conditions. Impressively, the team didn't let it get to them, and they went out and fully embraced the opportunity, coming away massive 50-point winners! 
I know families may have been less than impressed with the amount of mud when returning home, but congratulations for your determination and grit. It's great to see.
Changes to Fixtures
Please follow the link below to ensure you are up to date with any changes to fixtures for Round 9 (Saturday, 30 July). Do keep a close eye on the Waverley College app for any further adjustments.
Winter Season Concluding and Athletics Season (Term 3)
As the season is coming to an end, we enter a period of rest and rejuvenation as Term 3 progresses. This period is held for the athletics season in the Junior and Senior school combined.
Once the Junior School Athletics Carnival is completed, students who make it through to IPSHA Athletics, and any other students who were considered close to making the IPSHA Athletics team, will be invited to begin training with the senior Athletics teams.
This will be undertaken with the experienced coaches and senior athletes, which is a fantastic opportunity for our Junior students to learn and develop at a faster rate in both Track & Field events in the lead up to the IPSHA Athletics Carnival on Monday, 29 August.
The Athletics season runs from Monday, 8 August to Saturday, 10 September. Students chosen to be involved in the Athletics season will be informed and provided with further information around days and times of training. Students who don't fall into this category will be given a break from sport.
Training for the second half of the Summer Co-Curricular season will recommence in Weeks 9 and 10 of Term 3, with games beginning at the start of Term 4. During the break from sport, students will still have the Athletics Carnival and FunRun to look forward to.
Winter Co-Curricular Presentation Nights
All Junior School Winter Co-Curricular sports will be having a presentation night as organised and run by the Senior School sport association committees and convenors.
Due to limited attendance numbers allocated for each Presentation Night, Junior School students who have been informed that they are receiving an award will be invited to attend the Presentation Night for their selected sport.
Students who are winning an award will be informed of this next week (Week 3) and more information will be sent out to the families.
Presentation Night Dates
Rugby –

Friday, 19 August, Easts Rugby Club, from 6pm

Football – Saturday, 13 August, Senior School Performing Arts Centre (PAC), from 5pm
AFL – Friday, 12 August 2022, Senior School Performing Arts Centre (PAC), from 6pm
FunRun Fundraiser
The FunRun Fundraiser has seen some amazing achievements within the first week of the fundraising period. One week into the event, I'll thrilled to share the following milestones reached:
$24,207 fundraised in the first week
219 out of 314 students have signed up with profiles
463 total donations received
Jack Mihalakis (6 Blue) and Jake McEvoy (6 White) have both individually raised over $1,000
5 Orange and 6 White have the most student profiles in the first week, and have both raised the most as a class (above $3,500 separately)
The Junior School is unbelievably impressed by the level of commitment students have displayed, and we cannot wait to see how they progress leading up to the big FunRun event.
We thank all families for being on board and we further encourage you to spread the message far and wide, explaining the causes we're fundraising for, and the meaning behind each chosen charity.
The three major charities that will evenly share the total amount of money raised for the School FunRun Big Show event include:
The Sydney Children's Hospital Foundation

The Children's Hospital cares for kids from Bondi to Blacktown, from Bronte to Bourke, touching the lives of every community across New South Wales and beyond. The Sydney Children's Hospital Foundation's policy is to ensure that every donation specified to a particular medical discipline or service is directed accordingly. Donations which are not specified are directed to the area of greatest need at the Hospital, as determined by the Hospital Management Committee, and approved by the Board of the Foundation, who acknowledge that donor expectation is that donations will support children's medical care and wellbeing. Each year the demand on the Hospital to replace or buy the newest equipment and fund medical research grows, as do the number of children we care for. In addition to inpatient services, over 200,000 treatments are given to children through Emergency and Outpatient Clinics.

Website: https://www.schf.org.au/

Starlight 

Children's 

Foundation

The Starlight

 Children's 

Foundation

 is a not-for-profit organisation founded in 1982 for hospitalised children and their families. 

Starlight

programs offer entertainment, education and technology to critically, chronically and terminally-ill children.

Starlight receives no government funding so relies solely on the generous support of individuals, the community and our corporate partners. Give happiness to sick kids, teens and their families at a time when they need it most.

Website: https://www.starlight.org.au/

Children's Leukaemia & Cancer Foundation

Australia has one of the highest incidences of childhood cancer worldwide. One in 500 Australian children will develop cancer before 15 years of age. Childhood cancer is the single greatest cause of death from disease in Australian children, with three children losing their lives to cancer every week. The quest to find cures for childhood cancer is one of medicine's greatest success stories. 50 years ago, only two per cent of children with cancer survived. Medical research alone has improved overall survival rates to 80 per cent. With childhood cancer still the leading cause of death from disease in Australian children, there is more work to be done. 

The Foundation relies on the generous support of the community to continue its vital research, as they do not receive State or Federal funding.

Website: https://childcancerresearch.com.au/
Mr Jack Wachtel
Assistant Director of Co-curricular
E: jwachtel@waverley.nsw.edu.au
---
City to Surf
There are still two school weeks until the big day (Sunday, 14 August) and this means that:
There is still time to train and fundraise
There is still time to recruit friends and family to join you on the day
At the time of typing this report:
Running for Premature Babies is in 8th place on the list of charities with $31, 414 raised
Waverley College is in 2nd place on the list of fundraising teams with $17.100.50 raised.
Would You Like to View The Leaderboard for our Top Fundraisers?
>>> Click here to view the leaderboard.
This is an outstanding effort by Team Waverley! Keep up the brilliant work!
Please reach out if you have any questions and please look out for my team emails in your inbox.
Mr Elliott McKimm
Year 5 Teacher
E: emckimm@waverley.nsw.edu.au