Diary Dates
Please find below some reminders about upcoming events. For all of Term 2 events, please refer to the College calendar. 
May
6 May – Round 2 Winter Sport 

10 May – Conlon Mass, 6pm

11 May – O'Connor Mass, 6pm

12 May – Mother's Day Mass

13 May – Round 3 Winter Sport 

18 May – Tevlin House Mass, 6pm

19 May – Athletics Carnival 

20 May – Round 4 Winter Sport 

26 May – May Procession (half-day)

27 May – Round 5 Winter Sport 
June
2 June – Year 5 Retreat Day 

3 June – Round 6 Winter Sport 

7 June – Quinn House Mass, 6pm 

8 June – Year 5 History Showcase 

12 June – Pupil-Free Day – King's Birthday 

14 June – 16 June – Year 5 Camp

14 June – Year 6 History Showcase

16 June – Reports Available, 5pm 

17 June – Round 7 Winter Sport 

19 June – Parent/Teacher/Student Interviews 

22 June – Classes conclude 
Young Archie Competition – Harvey Smith 
Congratulations to one of our Drawing Club students, Harvey Smith, who entered the Young Archie competition. Harvey has received an 'honourable mention' in the Young Archie Awards. There were approximately 3,400 entries this year.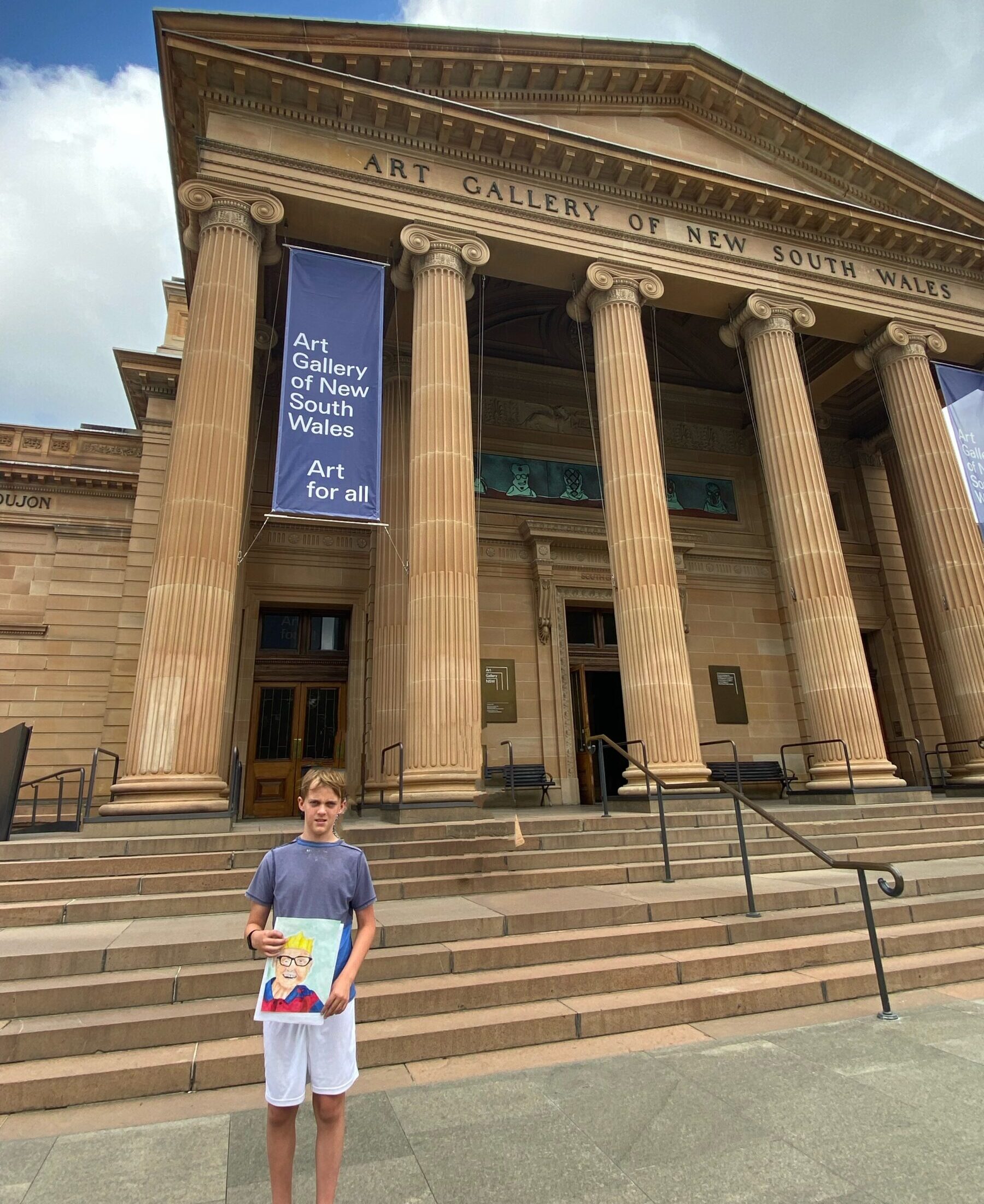 Harvey's portrait will be hung at the SH Ervin Gallery as part of the Salon de Refusés exhibition from Saturday, 6 May – Sunday, 23 July. As well as being live on the Art Gallery of NSW website. 
What a wonderful achievement Harvey, we are so proud of you! 
Click here to view his portrait on the AGNSW website
WriteOn Competition 2023
This is a reminder about the WriteOn Competition. If your son is looking for some extra inspiration over the next few weeks, please direct him to this competition. 
WriteOn is an annual writing competition open to all NSW primary students in Years 1 to 6. Students compose an imaginative text of up to 500 words, using the below image as the stimulus.
This competition provides students with the opportunity to become published authors and showcase their creativity. 
Entries are due to me by Week 6 Term 2. 
Ms Gaby Bransby
Director of the Junior School
---
Mother's Day Mass – Friday, 12 May 2023 – Request for Photos
Part of the Mother's Day celebration will include a slideshow presentation. Can I please ask that you send through a photo of your son(s) with their mothers/grandmothers if you would like a photo included in this presentation. The last day for photo submissions is Wednesday, 10 May.
Please email all photos to liturgy@waverley.nsw.edu.au
Sacrament of Confirmation at St Brigid's Parish, Coogee
For families who are part of St Brigid's Parish in Coogee, please see information below regarding the Sacrament of Confirmation.
Children from Year 6 and above are welcome to start preparing to receive their sacrament of Confirmation. 
Important Dates
Online registration: 24 April – 14 May 2023

Info session: Saturday, 19 May 2023, 4pm at Parish Hall, followed by commitment mass

Confirmation Mass: Wednesday, 28 June
*NB: Please have baptism, first reconciliation and first communion certificates ready when registering. 
Mr Steve Ghattas
Assistant Director of Junior School / Identity & Student Formation
---
Termly Curriculum Overview and SMART Goals
A warm welcome back to another exciting and packed term of learning at the Junior School. Please find below the Termly Curriculum Overviews to see what your son will be covering in each of his Key Learning Areas in Term 2.
A new term is a fantastic opportunity to set new goals. Your son will be setting SMART goals in class using the diary as a guide, we recommend you use this to prompt a conversation about what he wants to achieve and how he can be supported in this.
>>> Click here to view the Term 2 Year 5 Termly Curriculum Overview.
>>> Click here to view the Term 2 Year 6 Termly Curriculum Overview.
Ms Charlotte Stephens
Assistant Director of Curriculum
---
Winter Co-Curricular Sport – Round 2
Albeit some consistent rain for Round 1, it all ran smoothly with some excellent results from all winter co-curricular teams. It's time to draw our attention to Round 2 tomorrow, Saturday, 6 May. I know our students will represent the College proudly, and demonstrate the utmost respect and sportsmanship towards their opposition teams. 
Please ensure you refer to the Waverley College app announcements each week, as I will continue to send out the weekly Sports Fixtures for each round. All families can also locate all relevant Junior School Co-Curricular information through the College website by clicking the button below.
Athletics Carnival Permission Form
The Junior and Senior School will be holding our annual Years 5-12 whole school Athletics Carnival on Friday, 19 May. This will be held at ES Marks Athletics Field. More details will follow closer to the event date.
*Please click the button below to advise whether your son will be dropped off and picked up from E S Marks Field, or whether your son will need to be on the organised school bus to and from Carrington Road Gates.
Click here to complete the Athletics Carnival permission slip
Year 5 Athletics Trial
Next Tuesday, 9 May, Year 5 students will have their Athletics Trial after lunch at Waverley Park. All Year 5 students will run a timed 100m sprint to assist with placing students in their appropriate divisions specific to their age.
Please ensure your son wears his Waverley PE uniform on Tuesday, has his Waverley hat and a drink bottle. Students are allowed to pack spiked running shoes for the trial if they wish to. Recess and lunch will take place as usual; therefore, the canteen will remain open. Any Year 6 students who missed the Year 6 trial will also be trialled on this day.
External Sporting Achievements
Last Sunday, 30 April, Kai Freeman (5 Indigo) competed in the NSW State Title Jiu Jitsu Championship. Kai had actually moved up two weight divisions for this competition to challenge himself. He won his first fight by points and after a challenging second fight, Kai was able to secure 2nd place and take home the silver.
A massive congratulations to Kai for his achievement and the Waverley College community are truly proud of his efforts.
Mr Jack Wachtel
Assistant Director of Co-curricular (Years 5-8)
---
Home Learning Club – Week 3
*NO HOME LEARNING on Tuesday, 9 May 2023
We offer all students in Year 5 and Year 6 the opportunity to receive free additional support after school for the completion of home learning tasks. The afternoon sessions also provide a quiet, supervised study space for students who want to complete their assigned tasks.
Home Learning Club operates in the Learning Hub from 3pm until 4pm – Mondays, Tuesdays, Wednesdays, and Thursdays – during school term unless there is a scheduled Professional Development meeting and the club will be closed.   
Procedures
Click here to register your son
Only register his name once, to allow other students the opportunity to attend. The session is limited to 20 spots. There will be a roll call to ensure attendance.
Students are required to stay for the full session unless there is a message in the student diary requesting early leave, a parent/carer signature will be required.
Behaviour
As it is important to respect the rights of others to learn and work, all students are expected to settle to work in the Learning Hub and not cause a disturbance for others.
Teachers
If you require any further information, feel free to email us.
Important
If afternoon training sessions are cancelled, unfortunately, you cannot send your son to Home Learning as an alternative plan, students are registered for the afternoon sessions in advance and the capacity is always reached. Try to avoid messaging your son during this period, unless it is urgent.
---
2023 ICAS Competitions – Years 5 and 6 Students
What is ICAS?  
ICAS is an online academic competition designed to assess students' higher-order thinking and problem-solving skills in English, Mathematics, Science, Writing and Digital Technologies.  Each assessment celebrates students' accomplishments by providing opportunities for recognition and development. Every student who participates will receive a printed certificate and an online results report. Top performers will be eligible for medals.
If you would like your son to compete in the 2023 ICAS Competitions, you will be asked to nominate which competitions you would like him to be entered in through the Parent Payment System.
At the Junior School, the following ICAS competitions are offered: Writing & Digital Technologies, Science & English and Mathematics. This year all the competitions will be held in August / September, Term 3 and will be completed online in the Learning Hub before school starts. A timetable will be shared closer to the assessment dates. 
Click here to register your son
Through this system, parents/carers can pay for ICAS directly online, while tests will still be held at our school. Please use the school's access code details to register your child no later than 23 July 2023.
Waverley's School Access Code FBT592
Please consider carefully before choosing this enrichment opportunity for your son. It is a rigorous competition with many questions set beyond grade level. Participants are required to demonstrate a deeper, integrated and thorough level of learning.
If you are unsure of your son's suitability, please consult with his teacher. More information about the assessments can be found at ICAS Assessments: Home 
If you require additional support registering your son, contact the customer service team, Australian Toll-Free, 1800 931 775.
---
Lunchtime Guest Speaker
It was a privilege to have Jessica Buchanan our very first guest speaker for Term 2. Jessica is a writer for CANVA. She gave the Junior School boys an insight into the world of writing for CANVA, and the background on her journey to her writing career. Jessica had the boys captivated by her presentation, cleverly designed on a CANVA template. 
Thank you for taking the time out to inspire the Waverley boys to dream big.
Debating 
The debating season has kicked off this Term, with one win and one loss for Waverley. The boys had their first debate against Kincoppal, Rose Bay. The debate topic was 'That YouTube is better than TV.'
Both Waverley teams put forward solid arguments and presented their cases clearly and firmly, rebutting the Kincoppal team's cases. The boys did themselves and Waverley very proud.
Debating develops essential skills that are transferable to other areas: exploring ideas, developing arguments, articulating opinions, building confidence, being able to think on one's feet, and becoming a good public speaker. Congratulations on your first debate!
Reader of the Week
Ms Natasha Zivanovic
Literacy & Innovation Teacher
---
Year 6 Royal Botanic Garden Excursion
On Tuesday, Year 6 ventured to the stunning Royal Botanic Garden for a Year 6 Science Excursion, 'Aboriginal Culture and Knowledge.' This relates directly to the Science curriculum this Term, where we learn about sustainable farming practices.
The excursion also supports our learning in English and History, where we explore Aboriginal and Torres Strait Islander knowledge through texts such as Who am I? by Anita Heiss and Young Dark Emu by Bruce Pascoe.
The boys got to make lots of noise using "snake whistles" and try Davidson plums, a native fruit with 11 times the nutritional value of an orange. They thoroughly enjoyed walking on Country, and listening to the dedicated Aboriginal guides in the beautiful gardens on Gadigal Land. 
Our students expressed many interesting responses:
"It was very interesting how the Aboriginal people used the plants to help them survive, and it was also cool how they used constellations to know when to hunt different animals." – Tallis Merryweather (6 Blue)
"I really liked to learn about all of the different bush tuckers Aboriginal people used a long and still today." – Jet Venning (6 Blue)
"I thought it was really cool how the lemon myrtle worked instantly to clear my nose and how it has other medicinal properties." – Sam Peate (6 Blue)
"I thought it was quite interesting how Aboriginal people cloned the Wollemi pine to save it from extinction after disease had destroyed most of the remaining trees." – Boyd Haslam (6 Blue)