Diary Dates
Please find below key event dates you need to be aware of for the Junior School in Term 4. For all of the College events, please refer to the College calendar. 
Thursday, 17 November – Junior School Music Festival – select students, PAC, 6pm

Saturday, 19 November – Final Summer Co-Curricular round of sport

Friday, 25 November – Year 6 Graduation Mass – 1pm – Followed by a BBQ at Coogee organised by Class Parents 

Friday, 25 November – Reports Home

Monday, 28 November – Year 6 Laptop Return 

Tuesday, 29 November – Year 6 Celebration – Raging Waters 

Thursday, 1 December – Years 5-8 Presentation Day – Academic Uniform 

Thursday, 1st December – Classes Conclude 
Junior School Music Festival – Thursday, 17 November 2022, 6pm
We look forward to the Junior School Music Festival next Thursday evening. The event will showcase the Year 5 and Year 6 students' abundant talent in creative arts.
The event will take place in the Performing Arts Centre Theatre located at the Senior School campus. Commencing at 6pm. Parents/Carers and friends are welcome to attend.
The event is unticketed.
*Our Music Supporters' Group have organised a supper service and will be selling pizza and drinks from 5:15pm in the PAC Foyer. EFTPOS available.
Click here for more information
Year 5 Orientation Day 
The Junior School was buzzing on Tuesday, as we welcomed our 2023 Year 5 students. They had a great time participating in drama, STEM and PDHPE activities. The ice blocks were a real treat too!
Ms Gabrielle Smith
Director of Junior School
gsmith@waverley.nsw.edu.au
---
Year 6 Graduation Mass – Friday, 25 November 2022, 1pm
Request for Photos
A final reminder to please send through your son's Kindergarten photo (or their first day of Kindergarten, or similar), as this will form part of the slideshow presentation at the Year 6 Graduation.
Please send a labelled photo through to liturgy@waverley.nsw.edu.au by no later than Friday Week 5. Picture format as a jpeg or png files would be preferred. Please do not send through pdf files.
Christmas Appeals
In last week's edition of Nurrunga, we highlighted two charities that the Junior School would like to support in the period leading up to Christmas: the Matthew Talbot Hostel, specialising in supporting the homeless men of Sydney, and Kids Giving Back, supporting victims of both domestic violence and homelessness.
Donations for Matthew Talbot include:
Toiletries (preferably small travel size items), underwear, socks, chocolates, notepads, pens.
Donations for Kids Giving Back include:
Wet wipes, lip balms, roll-on sunscreen, bandaids, emery boards, pocket tissues, hand sanitiser (small bottles), travel-size shampoos and conditioners, mens' combs.
Donations for both of these charities can be handed in to Mrs Coupe at the Junior School front office. We will be collecting donations up until Friday Week 7 (25 November).
Your generosity and support is very much appreciated
Mr Steve Ghattas
Assistant Director of Identity & Student Formation
sghattas@waverley.nsw.edu.au
---
Summer Co-Curricular Sport
Only two more rounds of summer sport for 2022! I wish all teams the best of luck for their Round 11 fixtures tomorrow morning.
I ask for students to please give their full participation to training and Saturday games, in this final week of sport. There have been consistent unexplained absences lately, which does make it difficult for coaches to manage their teams.
Please click the button below to ensure you are up to date with fixtures and venue maps for Round 11 (Saturday, 12 November), and keep a close eye on the Waverley College app for any further adjustments due to weather conditions or ground closures.
Upcoming EPC Tennis Events in November and December
Below is information about upcoming EPC (Every Point Counts) Tennis Events. Tennis is currently the only Saturday sport played within IPSHA for which we do not have modified formats to facilitate inter-school sport for students of all abilities.
The EPC format addresses the current deficiencies in IPSHA Tennis. 
It would be very encouraging to have some Waverley Junior School students at these Sunday events, to further develop their tennis skills heading into 2023. 
EPC Tennis at Queenwood 13 November
EPC Tennis at Barker 4 December
External Sporting Achievements
Congratulations to Eamon and Bartram Esperanca, who won first place in all styles last Friday night at DRLC Maroubra Swimming Carnival. What an outstanding achievement for them both.
Mr Jack Wachtel
Assistant Director of Co-curricular (Years 5-8)
jwachtel@waverley.nsw.edu.au
---
Home Learning – Week 6
Click here to register your son
If your son is unable to attend, please email the College at nzivanovic@waverley.nsw.edu.au or call Reception.
Guest Speaker Matt Galanos Delights Waverley
Our guest speaker last week, Matt Galanos, wears two hats – Chief Financial Officer at the Australian Turf Club, and author. 
Matt gave up his time to come in and inspire the Waverley boys to follow their passion for writing. He is currently writing a series of fantasy books, the fourth coming out in early 2023. 
This inspirational lunchtime talk driven by many student questions, was exciting. Not only did it encourage writing, but also reading. Two very valuable life skills students need for the future. 
A huge thank you to Matt for giving up his time to inspire the next generation of writers. 
If you would like to volunteer to give a lunchtime talk in 2023, please email me directly at nzivanovic@waverley.nsw.edu.au
Drawing Club Final Sessions 
As we come to the end of a productive year of Drawing Club, I allowed the students to work on their mini drawings for the final sessions. Observing the students think critically about their drawings and watching them work creatively, is a highlight for me.
I have watched the boys make new friends, and discuss and appreciate each other's drawings.
There are only two sessions left in 2022, and I look forward to seeing what they produce. 
Passion for Reading and Writing
James Ganson (Year 5) has a passion for reading and writing. James was inspired to write and illustrate his own book, Imagineers Guide Book to Creatures, after reading one of his favourite books, Flanimals by Ricky Gervais, Rob Steen (Illustrator).
His book is now printed and in the Learning Hub for all to read. Well done James!
Ms Natasha Zivanovic
Literacy & Innovation Teacher
nzivanovic@waverley.nsw.edu.au
---
Happy Days in 5 Gold with Ms Jenny Hoare
As we approach the final weeks of the College year, it is wonderful to reflect on the exciting learning experiences and fun-filled days the students in 5 Gold have thoroughly enjoyed. Watching their dynamic personalities, different learning styles, creative and exceptional talents, and daily acts of kindness, made this year one I will always cherish.
Here is a snapshot of the happy days in 5 Gold.
5 Gold Drama Performance
At the end of Term 3, Ms Rollins prepared our class for their entertaining and dramatic performance of the play, Vulga the Vampire. Each student was given the opportunity to be an actor or to take on the role of lighting, sound, stage effects, backstage or narrator.
Their performance was brilliant, showcasing their passion, humour and exceptional acting skills. Oscar Litchfield stole the show, as Vulga the Vampire.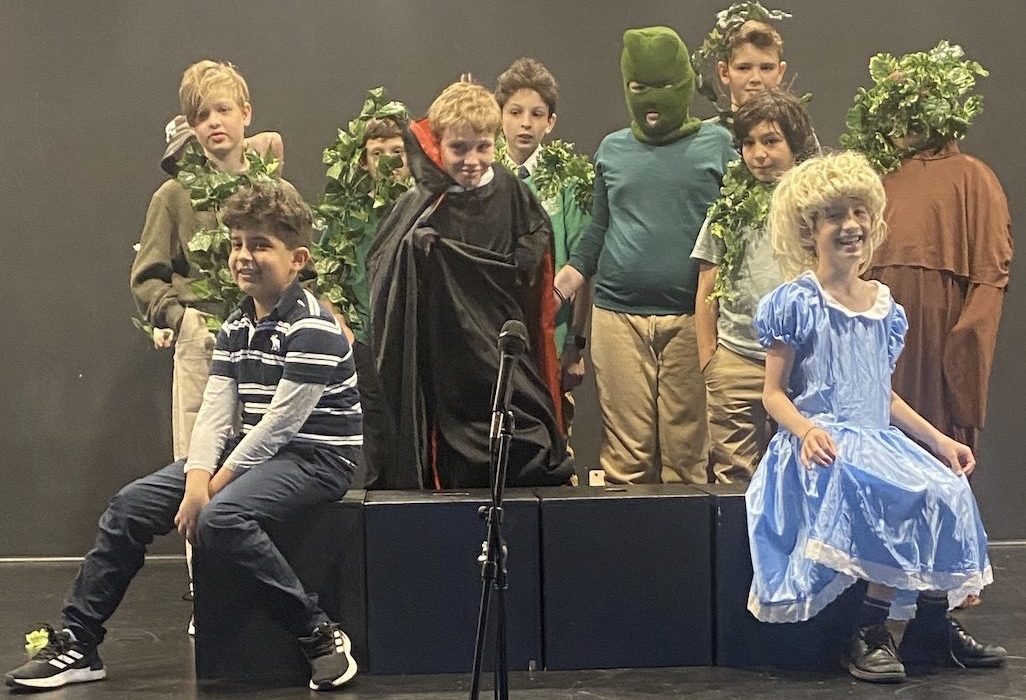 5 Gold Health
In Health this term, we have been exploring the unit, Healthy Communities, which investigates the Australian Dietary Guidelines for healthy eating. The students learn the importance of eating a nutritious diet for growth and development, and preventing lifestyle diseases.
Their study of carbohydrates, proteins, vitamins, minerals and fats allowed them to break their food plate into different groups, to demonstrate their understanding of the types and amounts of nutritious food and drinks to meet their energy needs.
By creating a food plate of their choice, they presented a wide variety of healthy foods from the Five Food Groups.
 5 Gold Science 
Earth and Space have been the focus in Science, where students have developed their understanding of the Earth and its position in the Solar system. This term, students are investigating the changes that occur on the Earth's surface, caused by extreme weather events. Their presentations in class will include ways in which scientists can predict severe weather, and design solutions to help those affected by natural disasters.
5 Gold Remembrance Day 
This week, the students have focused on the important tradition of Remembrance Day. They have learnt that Remembrance Day allows people to remember those who fought and lost their lives during all wars, and honour their memory.
During World War One, there were around 20 million deaths and 21 million wounded in both the armed forces and civilian communities. In class, they have learnt how we commemorate Remembrance Day by wearing poppies, attending ceremonies, and listening to stories to ensure we never forget the past.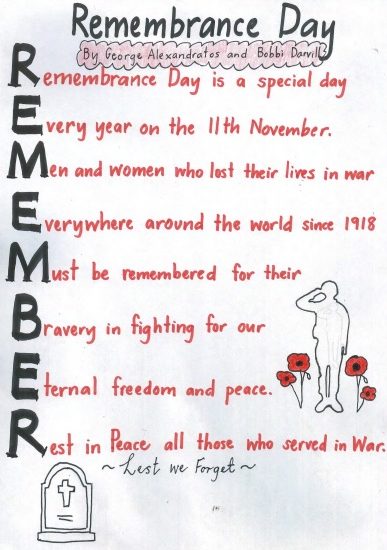 Thank you
I would like to take this opportunity to thank my beautiful 5 Gold Class for their hard work, positive attitude, school spirit and kindness throughout the year. I  feel truly blessed to have been part of the Waverley College Community for the last 12 years.
5 Gold, 2022, has made my final year very special, happy, and memorable. I am very sad to say goodbye. 
Watching the boys experience their first year at Waverley College has been a privilege. I have thoroughly enjoyed seeing their friendships flourish and sharing their achievements and disappointments. I know they have set their goals high for their future years. I am excited for each of them and will be sure to follow their journey through Waverley.
Most importantly, I would like to thank the beautiful parents and carers of 5 Gold. Words cannot describe how grateful and overwhelmed I am by the kindness, care, thoughtfulness, and generosity they have constantly shown me throughout the year.
It makes me appreciate how much I love being a teacher. I am truly grateful for my incredibly happy years at Waverley College, where I have come to know so many wonderful families. Thank you with all my heart. 
Ms Jenny Hoare