Diary Dates
Please find below some reminders about key events you need to be aware of for the Junior School in Term 2. For all of the College events, please refer to the College calendar. 
Saturday, 18 June – Round 7 Sport (final round of Term 2)

Week 9 (18 – 23 June) – No Sports Training

Tuesday, 21 June – Year 5 History Showcase, 2pm 

Wednesday, 22 June – Year 6 History/Science Showcase, 2pm  

Thursday, 23 June – Athletics Carnival – POSTPONED due to ES Marks current closure – will update on a rescheduled date

Friday, 24 June – Term 2 concludes
Write On Competition 
Thank you to all those students who participated in the annual NESA Write On Competition. A special congratulations to the following students:
Winner – Luca Beserra 
Runners Up – Ryan Loughrey and Ishaan Jeena
Luca Beserra's entry has now been submitted to NESA for judging, and we wish him the very best of luck with the competition.
Beanie for Brain Cancer
Beanies are currently being sold at the Junior School Reception. These are in support of brain cancer research. Beanies are $25 and the boys can wear them at school until the end of Term 2.
>>> Click here to view more information in the article by Mr John McCoy.
Mrs Gabby Smith
Director of Junior School
E: gsmith@waverley.nsw.edu.au
---
Edmund Rice Activity Day
Last Thursday, 9 June, Junior School students participated in the Annual Edmund Rice Activity Day. Throughout the morning, the boys learnt about the life of Edmund Rice through a variety of activities, including trivia, research projects and a prayer service.
Awards were presented throughout the day for students who demonstrate the same qualities of Edmund Rice, such as kindness, compassion, humility and a desire to put others first.
Congratulations to the following students:
5 Blue – Leo Henderson

5 Gold – Hunter Bligh
5 Indigo – Sebastian Karhan
5 Orange – Jack Burrows
5 Red – Hooper Dyke-Miller
5 White – Oscar Barrow
6 Blue – Luke Bannister

6 Gold – Jack Stuart

6 Indigo – Vinny Kapos

6 Orange – Rowan Metzl

6 Red – Charlie Tucker

6 White – Harry Demetrios
During the afternoon, the boys were involved in a number of different fundraising activities, aimed at raising money to go towards Edmund Rice Camps. There was a buzz of excitement around the school as the majority of the boys immersed themselves in the different games. I am proud to say that over $1,500 was raised. Well done to all boys for their efforts.
Raffle Results
1st Prize – Harry Neylon (6 Orange)
2nd Prize – Franklin Pyke (5 White)
3rd Prize – Jack Baker Sedgman (5 Red)
4th Prize – Oscar Barrow (5 White)
5th Prize – Cooper Mott (6 Blue)
Jelly Bean Guessing Competition Winner 
William Leyland (5 White)
Mr Steve Ghattas
Assistant Director of Identity & Student Formation
E: sghattas@waverley.nsw.edu.au
---
Co-curricular Sport
Good luck to all teams in their final Winter Season round for Term 2. We look forward to getting stuck into the remainder of the season at the beginning of Term 3.
Please follow the link below to ensure you are up to date with any changes to fixtures for Round 7 (Saturday, 18 June). Keep a close eye on the Waverley College app for any further adjustments.
Prep 1st Rugby on Queens Park 1 (Round 6)
Last round, our Prep 1st Rugby team had the privilege of facing off against their biggest arch rivals, Scots on Queens Park 1 main field. This was special, considering the last game scheduled for the team to play on Queens Park 1 was unfortunately washed out. It is always a big occasion playing Scots, but this had a different energy for both teams on a crisp, blue-skied Sydney winter's day. 
As expected, it was a nail-biter of a game, going down to the final minutes where Waverley were able to swing the ball wide to secure the final try, and the win, by 4 points. As you can imagine, the boys were ecstatic, and to achieve this on the main field was an added reward for a hard-fought game.
Well done boys, you were very deserving, and it was great to see you get the win.
National Junior Basketball Classic Tournament (Melbourne)
Hunter Bligh and Lachlan Bayly made it to the National Junior Basketball Classic Tournament in Melbourne over the long weekend with their rep team. It's a big achievement for these boys, as it's an 'invite only' tournament with only the best teams in Australia competing.
The boys finished in 10th overall, which is a huge achievement. This means their team is in the top 10 best U12 team in Australia. Congratulations to both Hunter and Lachlan, it's excellent to see you both achieve big things in basketball.
Rugby Reps 2022
The Queen's Birthday long weekend saw 18 teams from all around NSW, (and even one Melbourne team), head to Camden for the U12s Rugby State Championship – their first state tournament, having missed competing in the U10s and U11s due to COVID-19.
The following Year 6 students were selected to represent the Randwick district: Lukas Pendleton (captain), Riley Carr, Vaidas Levi, Morgan Turinui, Beau Matheson-Raynor, Byron Thomas and Zac Johnson. The team also included Year 7 students Junior Pohiva and Duke Thomas.
The team were up against some very tough opposition in the tournament, and were praised by the officials for playing in the true spirit of rugby. They had an amazing time, formed long-lasting friendships, and thoroughly enjoyed Camden's country hospitality.
Ben Fernandes was also selected to play for Penrith Rugby Club and compete against his other close friends and classmates. Congratulations to Ben and all the Waverley boys who were selected and involved in the competition over the long weekend.
Mr Jack Wachtel
Assistant Director of Co-curricular (Years 5-8)
E: jwachtel@waverley.nsw.edu.au
---
Home Learning Club – Week 9 
>>> Click here to register your son.
If your son is unable to attend, please email the College: nzivanovic@waverley.nsw.edu.au or call reception.
Home Learning Club will only be on Monday, 20 and Tuesday, 21 June. 
2022 ICAS Competitions – Years 5 and 6 Students
If you would like your son to compete in the 2021 ICAS Competitions, you will be asked to nominate the competitions in which you would like him to be entered, through the Parent Payment System.
At the Junior School, the following ICAS competitions are offered: Writing & Digital Technologies, Science & Spelling Bee, English and Mathematics. This year all the competitions will be held in August / September of Term 3, and will be completed before school in the Learning Hub. Dates and times will be confirmed in Term 3.
>>> Click here to register your son.
Through this system, parents can pay for ICAS directly online, while tests will still be held at our College. Please use the College's access code details to register your child, no later than the first week in Term 3, Friday, 22 July 2022.
Waverley's School Access Code UUD072
Please consider carefully before choosing this enrichment opportunity for your son. It is a rigorous competition, with many questions set beyond grade level. Participants are required to demonstrate a deeper, integrated and thorough level of learning. If you are unsure of your son's suitability, please consult with his teacher.
>>> Click here for more information about the assessments.
If you require additional support registering your son, contact the customer service team. Call Australian Toll-Free Tel 1800 931 775.
Ms Natasha Zivanovic
Literacy & Innovation Teacher
E: nzivanovic@waverley.nsw.edu.au
---
News From 6 Indigo 
The students in 6 Indigo have been extremely busy working through a number of different projects through the term. They are excitedly preparing for the upcoming History/Science Showcase next week.
Some of the interesting things that they have been working on include:
English – Podcasts
The students were asked to work in groups of two or three to create a podcast based around the book that we were studying in class, Young Dark Emu, by Bruce Pascoe. This book gives us a different and truer insight into the Indigenous way of life, based on excerpts of early explorers' diaries.
Students were asked to analyse parts of the book, and reflect on their own interpretations in a fun and meaningful way.
Would you like to hear some of these student-created podcasts? Just use your camera to scan the QR code at the bottom of each image below.
History – Waves of Migration
The boys in 6 Indigo have been exploring the different factors that attributed to Australia's migration story. This has led to their current inquiry research task, where they are busy retracing the migration story of a family member or friend, to create a digital visual representation of this story through I-Movie.
We are greatly looking forward to watching the final productions.
Science – Future Food Project
Through our Science topic this term, students have been learning about different foods, how they are produced, and how sustainable they will be in the future. They were given an opportunity to present their research task either as a brochure, poster or Google Slide Presentation. You can see some of their work in the images below, however they will also be on full display during the Year 6 History/Science Showcase on Wednesday, 22 June at 2pm.
Visual Arts – Box Monsters
As part of their Visual Arts lessons, the boys worked collaboratively to build Box Monsters out of recyclable materials. A lot of creativity was put into the designs and a lot of fun was piecing together the final product. Enjoy the images below!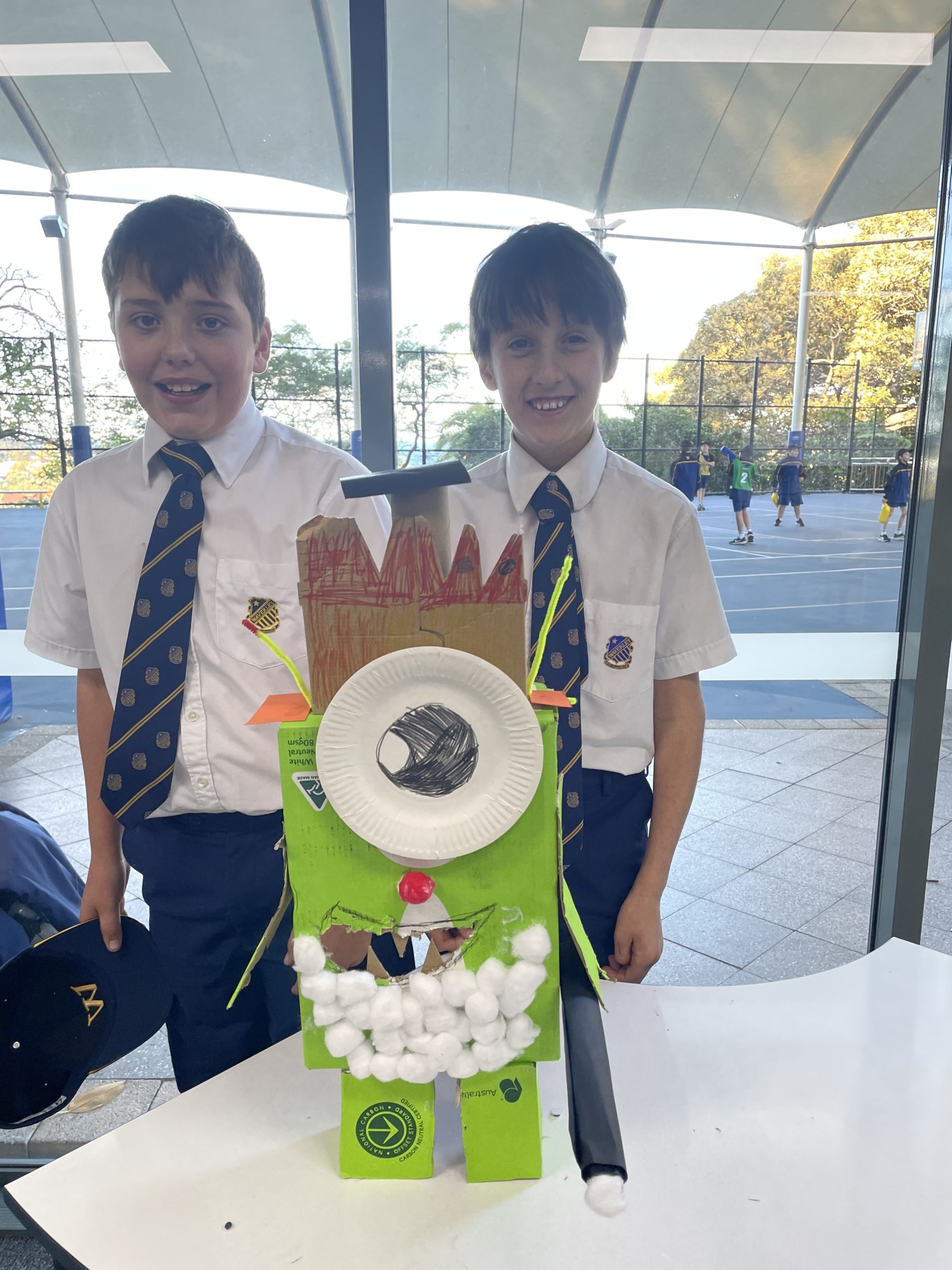 It certainly has been a busy semester. I look forward to seeing how the 6 Indigo students' learnings continue to grow throughout the remainder of the year.
Mr Steve Ghattas
Class Teacher 6 Indigo
Assistant Director of Identity & Student Formation
E: sghattas@waverley.nsw.edu.au