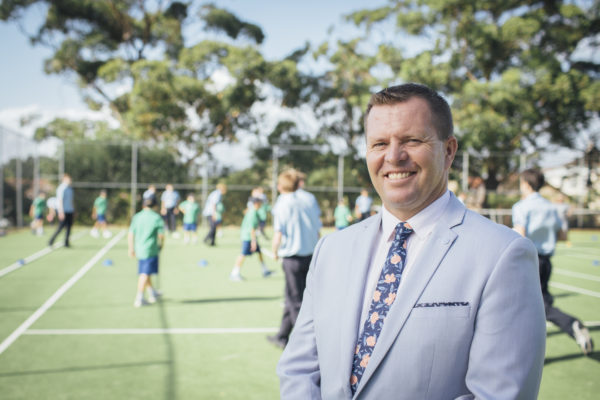 From Mr Steve O'Donnell, Director of Co-curricular
Start of Winter co-curricular
Please click here to view the fixtures. 
2021 House Swimming Carnival – Congratulations Brennan House for winning the Swimming Carnival by one point! Conlon were close behind in second place.
A huge thank you to all staff and students on a tremendous effort at the 2021 House Swimming Carnival last Friday. The enthusiastic commitment from all students made this a very special event, and after all of the races, relays, novelty events and another win to the staff in the staff v prefects relay, both Brennan and Conlon were tied at the end of the carnival. After a number of calls and requests to determine a winner, both of these Houses selected one swimmer for a championship 50m Freestyle race.
Zoltahn Szabo from Conlon took on Carter Hjorring from Brennan, with Carter just tipping out Zoltahn to secure a three-peat for the boys in royal blue. Special thanks to the Heads of House, the House Captains and the College Prefects for their wonderful organisation as well as Mr Steve Wilmot and Mr Jack Wachtel for running the day. We also could not run these events without all of the work behind the scenes from our Campus Team who were at the venue long before we arrived, and were still packing up after everyone had left.
No Sport This Saturday
This Saturday there is no sport for the students as we are running our Winter coaches' induction morning. All Winter activities and training commences next Monday and it is vital all students are aware of the training schedule and the first round of fixtures and internal trials for Years 7-12 on 20 March:
https://waverley.nsw.edu.au/events/senior-and-junior-sport-fixtures/.
New Winter Co-curricular Football, Rugby and AFL Attire
On 20 March there will also be a select group of students in Football selected to play a CAS gala day that involves our 1st XI and extended A Football teams. These students will also be the first who will be able to purchase the new Winter Co-curricular Football attire. The following weekend we have select groups of Football and Rugby teams playing Riverview and these students will also be able to purchase the new Winter attire.
At this stage there are limited supplies of Football, Rugby and AFL attire that will be available due to production issues related to COVID-19. As soon as all gear is available to be purchased by any student competing in Winter activities, we will notify all parents and students. Please note that we hope to have this all available by the start of Term 2, and once it is available, all students will be required to be in the new attire for all Winter co-curricular activities. Any student who still has winter attire from previous seasons is able to wear this for training purposes.
Code of Conduct for CAS and Waverley College
I would also like to remind all parents and students that no selections for any team or sport are final, and to please be patient with our Convenors, coaches and staff at the initial stages of the Winter season. The coaches will do their very best, and good performances, attitude and application will be rewarded with higher selections.
I would also like to remind all parents and spectators of the Codes of Conduct for CAS and Waverley College, and that this is only schoolboy sport. Respect for all players, officials, coaches and other school communities is expected at all times.
---
From Mr John McCallum, Convenor of Cricket
Behind the Stumps – Waverley Cricket Report
What an exciting final round of Senior Cricket! There were so many great team performances, with a majority of Waverley victories across all teams against St Aloysius and Cranbrook, while another three teams had thrilling last-over narrow losses. Special congratulations to Jett Lenzo from the 8Bs for an outstanding 92 not out from just 60 balls, and Maxim Brooks from our 1st XI with a classy 103 not out – his second century for the College. Maxim also scored a rapid 55 not out from just 33 balls playing for the CAS U16 side in their victory against GPS.
The 2nd XI had a famous final over victory over St Aloysius, with Ed Sullivan cool under pressure to dispatch a few boundaries to spark celebrations of a possible 2nds Premiership. Other CAS results didn't go in the 2nd's favour – leaving them a win short – but they can be very proud of an exceptional season to come equal second with only two defeats across the entire season. Will Dodd took 3 wickets and Sachiel Bass 2 in bowling out St Aloysius to set up this win.
The 1sts and 2nds Year 12 players had a memorable final round together, and are congratulated for their wonderful contribution to their sport, and have been fantastic role models and mentors for younger boys.
Numerous awards will be presented to students at a College Sports assembly on 25 March, recognising fantastic achievements and performances.  This includes many awards usually presented at the Cricket Presentation Evening – unable to proceed due to current COVID-19 health restrictions.
In lieu of this, an amazing Online Cricket Raffle was tremendously supported, with the 18 lucky prize winners drawn by Brother Murphy and published on Team app and contacted for collection. A huge thank you to the Cricket Supporter's Group for facilitating this and parents for their support. 
 The Cricket award winners appear below, and special congratulations to the Brother Murphy Award Winner for player of the Season: Harry Shultz of the 1st XI. Harry finished 1st on 394 points, with a huge 17 wickets as the CAS leading wicket-taker, and also took four catches and scored 119 runs.
Waverley College Cricket Awards 2020-21 Season – Congratulations!
Captain of the 1st XI Cricket 2020/21 – Sam Connolly
1st XI Cricket Best Batsman 2020/21 – Maxim Brooks
1st XI Cricket Best Bowler 2020/21 – Harry Schultz
1st XI Cricket Best Fieldsman 2020/21 – Daniel McSweeny
1st XI Cricket: The John Boyd Trophy for Best Team Man – Jack Hickey
2nd XI Cricket Best & Fairest 2020/21 – Murray Shearer
10A Cricket Best & Fairest 2020/21 – Freddie Le Vay
9A Cricket Best & Fairest 2020/21 – Jack George
8A Cricket Best & Fairest 2020/21 – Jonathon McDonald
7A Cricket Best & Fairest 2021 – James Warwick-Rose
The Hayes Shield, for Best Cricket side of the Year 2nd XI – (Captain is Patrick Hoggett)
1st XI 2020-21 Coach's Award – Eddie Regan
2nd XI 2020-21 Coach's Award – Patrick Hoggett
10A Cricket 2020-21 Coach's Award – Carter Steyn
9A Cricket 2019-20 Coach's Award – Remy Frampton
9B Cricket 2019-20 Coach's Award – Jet Foltman
8A Cricket 2019-20 Coach's Award – Max Sheehy
8B Cricket 2019-20 Coach's Award – Jett Lenzo
8C Cricket 2019-20 Coach's Award – Taj Lynn
7A Cricket 2020 Coach's Award – Lando Cheatham
7B Cricket 2020 Coach's Award – Jett Jones-Czechowski
Br. Murphy Shield 2020-21 First Place – Harry Schultz
Br. Murphy Shield 2020-21 Second Place – Maxim Brooks
Br. Murphy Shield 2020-21 Third Place – William Dodd
2020-21 Outstanding Contribution to Cricket – Conor Boyd-Boland
Hundreds Scored: Batting – Maxim Brooks, 1st XI: 103 not out v St Aloysius
50+ scores: Batting – Jack Hickey: 1st XI – 50 n.o v Barker; Dylan Brown: 1st XI – 52 v IZingari; Maxim Brooks: 1st XI – 58 v Cranbrook; Maxim Brooks: 1st XI and CAS U16s – 55 n.o v GPS; Jesse Sonego: 1st XI – 50 n.o v Riverview; William Livissianis: 7As – 51 v Barker; 57 n.o v St Aloysius; Jett Lenzo 8B 92 n.o v St. Aloysius; Angus Sundkvist: 8Cs – 74 v Barker; Finley Bates: 8Cs – 59 v Barker; 60 v Barker; Jonothan McDonald: 8As – 63 v St Aloysius, 51 v St Aloysius; Toby McDonald: 8As – 52 v Knox; Jack George: 9As – 60 n.o v St Aloysius; Angus Sullivan: 9As – 64 n.o v Cranbrook.